You got your self an RP Mike?
Finally, though only the new cheap IKEA one, but loving it so far. Most of the early 80s vinyl are down from the attic and I have taken over my son's room now he had gone to university

Currently enjoying this with the odd tiny little pop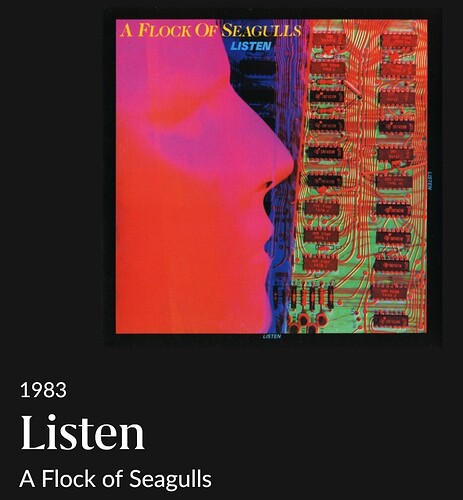 So you have gone full on, with a SACD player and now a TT, what's next RtoR or Cassette?
when I see all of these posts I'm starting to miss all my (fathers) Vinyls, all my cassettes, all my cds, all my mds

but I know other people are enjoying them

Mds =Minidiscs? I have one in my attic.
Nope that's it for formats for me now. Don't give @AceRimmer any additional ideas he has already started asking about all my cassettes that are in the attic.
I do need to get up and down to switch things over in my retirement and this will count as exercise.

Though I do see an better TT coming to live with me if this is more than a FAD. Playing CDs and SACDs almost every day so hopefully it is. Just have to also send them to a silent Roon endpoint so I can track what I have played

I gave my brother 3 of them a few years ago to get them out of my attic
I hardly touch my TT takes something special to motivate me these days, my Arcam cd player is also in the Attic. I'm getting a bit tired of my main speaker system at moment as I honestly can't get it it to sound how I want with my hearing changing as it does at our age and my rooms a constant battle. If exhausted every position possible for speakers. DSP works but I have to admit for some music it robs the life out of them for others I can't listen without it as the Room just doesn't get on with them. I just use my headphone setups more as it just doesn't have the room issues. I can't put in room mods so I feel I might move on the main stuff sometime soon as out of ideas.
yes, minidisks, out of all of them minidisks were no 1 for me. combination between my age, tech, and country. Vinyls I had just 5, Michael Jackson thriller, but my father had a lot, when he was young he had an aunt in us as a source Beatles, janis Joplin, cream etc. When I was in high school I had a walkman I you could find cassettes to buy in 2 or 3 places, copies of course, and if you wanted Xeroxed cover you had to pay more for black&w or more for colour. So I had 50 of those to play again and again. When at university I could do jobs and all my money when in to amp, cd deck, minidisk deck and a portable one, I had hundreds as the cd's were hard to buy so we all had to share and make copies… After that solid media

that I still have, 300 giga, but it was all illegal downloads of disk images so I do not want to listen to them

I'm missing my CD's a lot as well. My kids still have plenty of them in their homes, car and offices…



Did have to look after my youngest daughters car a few months ago and found my The Doors collection sets in the glovebox and console which were duly reacquainted with the CD Store Cupboard.
Speakers were the bane of my life for years, none sounded right or how I wanted despite spending big dollars on some until I discovered OB speakers.
Never looked back.
First a pair of Maggie's now possibly my endgame speakers, Spatial Audio.
Not even expensive relatively but the single biggest game changer I ever made for myself.
I don't even peruse audio gear listings any more…just media

I could say I told you so…for the past couple of years at least


But I won't.
Instead it's just congratulations, enjoy and try not to dive too deeply down the big ol rabbit hole

I know, all my cds are now at my best friend so when at his house as babysitter I get nostalgia. 9 years ago I moved my studio to a public one, kind of a gallery, so I did give away almost everything. Somehow made me feel good, seeing all my stuff can fit into a trunk

I dream of that

you do that by hand? or you have something automatically?
I thought youre main system was a Unity Atom but can't remember what you have them partnered with and I thought you always really liked it. Did you change anything?
I have been enjoying the old school media swapping and I have to say that the Arcam Amp/SACD combination sound's great. Though I still stream probably 80% of what I listen to. With ARC being used in office that has probably become more like 90%
I have referenced that in another thread


But yes you did

All by hand, I'm sad like that and at least I know it

I know but it's such a momentous occasion I thought it was worth mentioning more than once!
Welcome to the Dark Side…we have cookies