Hi soundserge
She is credited for the album. Roon doesn't currently do individual track credits as well as the Tidal app unfortunately… @joel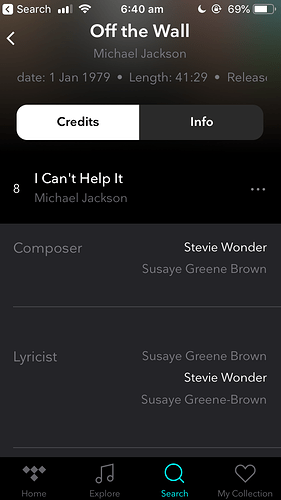 I see that too, but that's not correct, is it? I think it's an error on the part of allmusic/rovi
This is the Julie Miller they credit:
I don't believe she was involved with Off the Wall or MJ.
Ha, noted - not that particular Julie, certainly.
I'll have to call Quincy and ask if there was a different Julie involved with the album.
I have the CD somewhere too, I'll check the CD booklet (if I can find it).
As you said it's possible AllMusic (and Roon) are both wrong and the Tidal app credits are correct (again).
From the liner notes:
8. I Can't Help It
(Stevie Wonder/Susaye Greene)
© 1979 Jobete Music Company, Inc., and Black Bull Music, Inc. (ASCAP) All rights reserved. Used by permission.
Michael Jackson – Lead Vocals
Louis Johnson – Bass
John Robinson – Drums
Greg Phillinganes – Electric Piano and Synthesizer
Michael Boddicker – Synthesizer Programming
Paulinho Da Costa – Percussion
Horns arranged by Jerry Hey and performed by
THE SEAWIND HORNS:
Jerry Hey – Trumpet and Flugelhorn
Larry Williams – Tenor, Alto Saxes and Flute
Kim Hutchcroft – Baritone, Tenor Saxes and Flute
William Reichenbach – Trombone
Gary Grant – Trumpet
Rhythm arrangement Greg Phillinganes and Stevie Wonder
Strings arranged by Johnny Mandel
ConcertMaster – Gerald Vinci
Nice. The Tidal app track credits are right then. Heaps more info than Roon shows too (track by track info).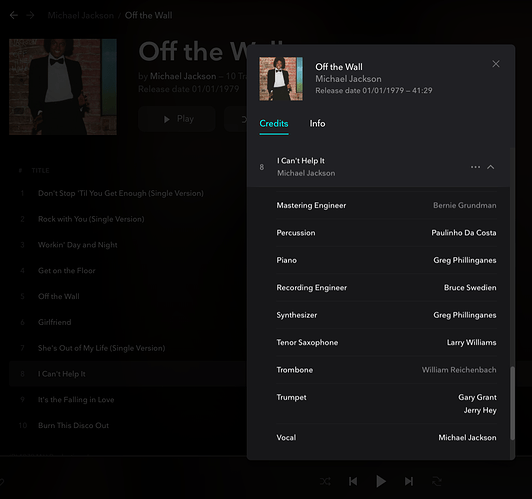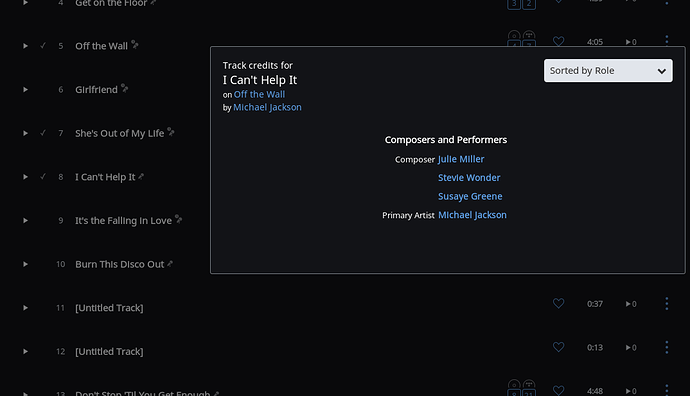 I thought so because Julie Miller appears on a number of my albums and she ain't pop/ R&B.
Hi @soundserge,
I have reached out to our metadata provider and requested they make a change here. I'll keep you updated once we hear from them.
Thanks for the report!
Hi again @soundserge,
Our metadata provider has let us know that they have corrected this. Please give this about a week to be reflected within Roon. Once you see the change on your end please mark this post as the solution.
Thanks again for your report!
This topic was automatically closed 36 hours after the last reply. New replies are no longer allowed.