Hey,
I'm pretty sure that this is something at the microRendu end so looking for someone with some experience of these things.
I have a MicroRendu and a Mytek Brooklyn.
The Brooklyn is capable of DSD 256 and I believe the microRendu can support upto DSD 512.
I previously had roon performing DSD 256 conversion directly to the Brooklyn with no issues.
When I try to do the same through the microRendu the max sample rate is 128.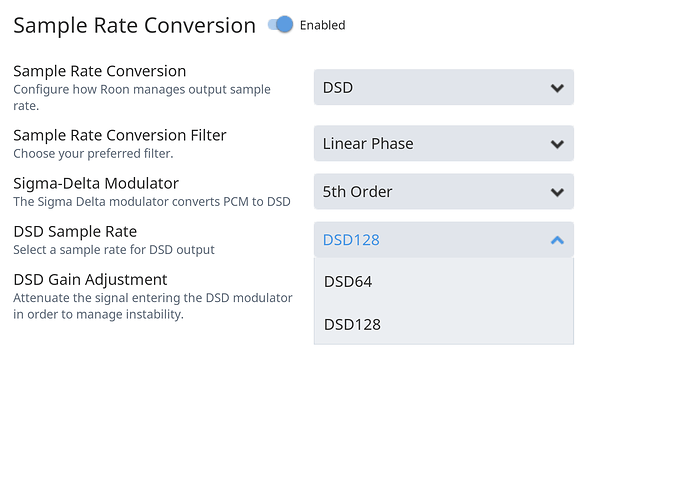 I suspect this is the way the microrendu is seeing the brooklyn, the DAC diagnostics is below. Is there anything I can do to resolve this?
Cheers in advance
Mytek Digital Brooklyn DAC at usb-ci_hdrc.1-1.1.2, high speed : USB Audio
Playback:
Status: Stop
Interface 2
Altset 1
Format: S32_LE
Channels: 2
Endpoint: 1 OUT (ASYNC)
Rates: 44100, 48000, 88200, 96000, 176400, 192000, 352800, 384000
Data packet interval: 125 us
Interface 2
Altset 2
Format: SPECIAL DSD_U32_BE
Channels: 2
Endpoint: 1 OUT (ASYNC)
Rates: 44100, 48000, 88200, 96000, 176400, 192000, 352800, 384000
Data packet interval: 125 us
Capture:
Status: Stop
Interface 1
Altset 1
Format: S32_LE
Channels: 4
Endpoint: 1 IN (ASYNC)
Rates: 44100, 48000, 88200, 96000, 176400, 192000, 352800, 384000
Data packet interval: 125 us
Interface 1
Altset 2
Format: S32_LE DSD_U32_BE
Channels: 8
Endpoint: 1 IN (ASYNC)
Rates: 44100, 48000, 88200, 96000, 176400, 192000, 352800, 384000
Data packet interval: 125 us
Interface 1
Altset 3
Format: S32_LE
Channels: 8
Endpoint: 1 IN (ASYNC)
Rates: 44100, 48000, 88200, 96000, 176400, 192000, 352800, 384000
Data packet interval: 125 us
Interface 1
Altset 4
Format: SPECIAL
Channels: 2
Endpoint: 1 IN (ASYNC)
Rates: 44100, 48000, 88200, 96000, 176400, 192000, 352800, 384000
Data packet interval: 125 us