Core Machine (Operating system/System info/Roon build number)
ROCK on NUC5. Version 1.7 build 500
Network Details (Including networking gear model/manufacturer and if on WiFi/Ethernet)
Both NUC and D440 plugged with Ethernet to modem cable router (Arris TG3442)
Audio Devices (Specify what device you're using and its connection type - USB/HDMI/etc.)
D440 using RAAT
Description Of Issue
Missing first few milliseconds when track start playing - noticeable on tracks with direct start / no prior silence, for example the Presto of below recording (Qobuz streaming):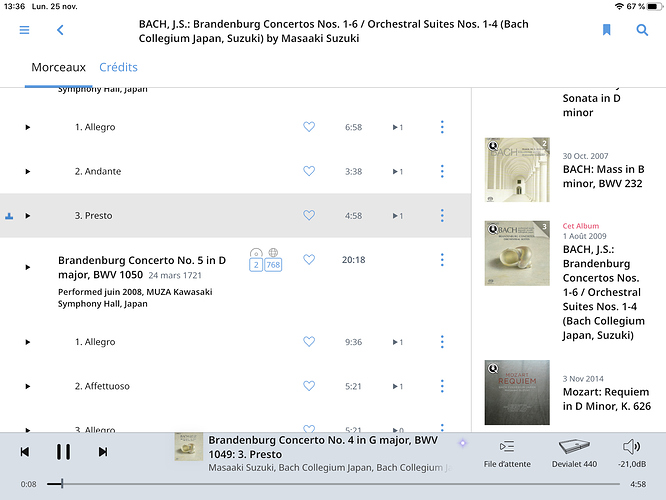 How to reproduce: go back and forth between tracks n-1/n/n+1 using next and previous track button. You can hear Presto is missing few first milliseconds. Now if I pause the track, rewind it to start and play again, it start from beginning all good no missing samples.
Trying the same on my Sonos Move over WiFI, I don't face the issue (Qobuz ruled out). Using D440 with AIR versus RAAT I don't face the issue now there is an observation: with AIR there is some silence padding between tracks, maybe a second or so. Clearly noticeable comparing with playing on D440/RAAT or Sonos.
I thus made the following experiment: adding 1s silence padding for D440/RAAT setup (via Roon config). I noted this was normally to cope with "format change" which is not my case. This padding feature seems NOT to work going back and forth between tracks using previous/next button (that is a bug) and/so I faced the original issue of missing start. Interestingly if I pause a track and rewind then play (use case without issue) the 1s silence padding is working.
Bottom line I see 2 bugs: silence padding not working using previous/next button, and few first milliseconds of audio missing with D440/RAAT (I have no other RAAT device to try if it is Devialet-dependent). Silence padding could have been a workaround, but it doesn't work…
PS: no idea if there is a link to version 1.7, it could have been there before