English:


French:


In French it's missing a space between birth year and age.
I think that it happens for all languages other than English, Spanish version included.
Hi @Eric_Cholet ,
Thanks for the report, I'll pass this on to the team!
@noris the translation tool is automatically deleting spaces at the beginning and the end of the string.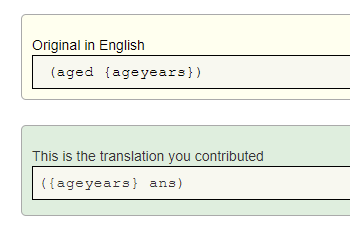 Is UTF-8 code handled ? A solution could then be %20({ageyars} ans)
I refrain from trying, I don't want to make things worse…
Antoher option is to allow extra spaces at the beginning of the string in the translation tool
The ugly one being to replace the space with an underscore _
In the meantime I have changed the translation to –({ageyears} ans)