mini 2012: i7 quad,16gb RAM, 250gb SSD (OS & Roon db), 4tb SSD over USB (music), macOS Catalina with all updates (only Roon core running) > dCS Rossini DAC (over RAAT) + Rossini Master Clock > Audio Note Kondo Ongaku amp > Avantgarde Duo Mezzo G2 speakers
I have a few versions of Patricia Barber's Cafe Blue. They are all in my SSD. And they are not showing together anymore.
I am pretty sure you guys have no idea what you're doing at this point.
This is what shows in the track browser (trying to figure out if you misclassified it):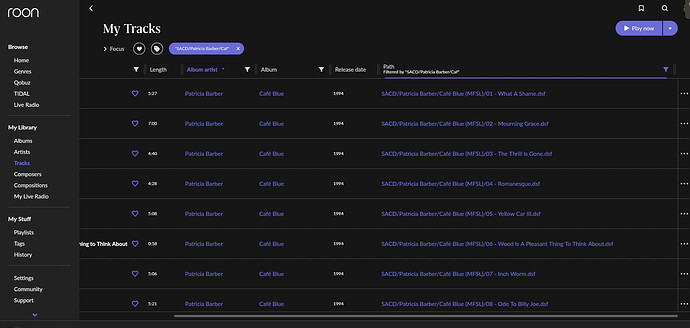 Before you ask - THERE IS NOTHING BELOW OR ELSE I WOULD NOT HAVE SHOWN YOU THIS.
This is my directory structure: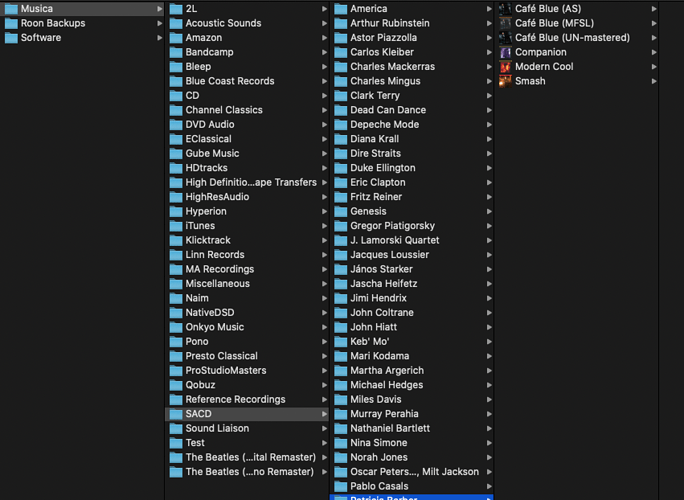 And if "Show Hidden Tracks" is turned to Yes, the albums appear under Patricia Barber, ungrouped with the main album.
Are there 3 year olds pushing code in there?