Roon Core Machine
2017 MacBook Air running MacOS Mojave
1.8 GHz Intel Core i5
8 GB 1600 MHz DDR3
Music resides on a 5Tb Western Digital external drive connected directly to the MacBook Air.
Networking Gear & Setup Details
Verizon FIOS router, connected via ethernet
Connected Audio Devices
95% of listening is via a Schiit Bifrost 2, connected directly to the MacBook Air via USB
I also occasionally stream Roon to my iPhone
Number of Tracks in Library
119,255 tracks
Description of Issue
Without getting into the "why" (long story) I recently made the following changes to my setup:
1.Disconnected external drive from the MacBook Air and connected to my main desktop computer on the network. Reconnected it to Roon via network share. Waited out the re-scanning, etc.
After a few days, it was clear that I had created performance issues by doing this, mainly in that it was now taking Roon 10-15 minutes to recognize new songs added to the external drive.

Decided to go back to the original configuration. Moved the drive back to a direct connection with the core. Reconfigured storage settings in Roon. Waited out the rescanning, etc. one more time.
When all was said and done, everything was back to the way it was in the beginning, except for one thing, which for me is pretty important: my data re: "most played" seems to have been wrecked.
Here's a screenshot with an example. This is a bookmarked view that I use a lot. It shows albums added in 2022, ranked by most played: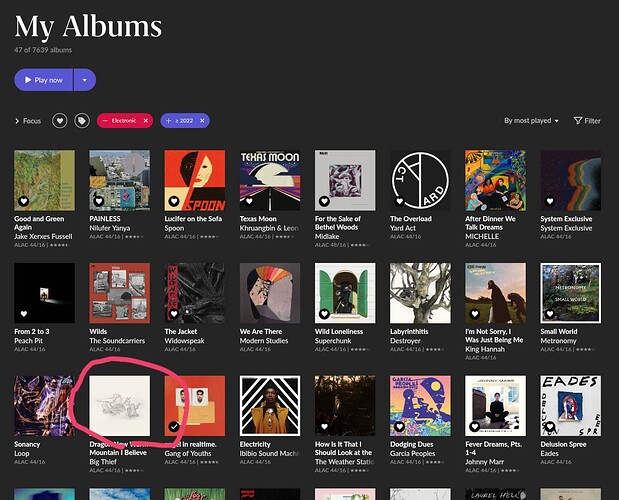 Note the album circled in pink. That album is far and away my most listened to in 2022. It appropriately showed up first on this page, until I started all the changes described above. Also, there are several albums on the screenshot that are ranked as "more played" than the pink-circled album … and these are albums I haven't even listened to once, yet.
So, my questions: 1) what happened?, and 2) what do I need to do to get my "most played" data accurate again?
One last note: I thought restoring from a backup would be the simplest solution, but for some reason, Roon reports that it is unable to restore any of my backups, saying "Restore failed. Please check your backup folder and try again."
Thanks in advance for the help.
Brock