Roon Core machine-
windows 11 latest version, 12900KS cpu, 16gb ram ddr4 4400Mhz, MSI pro z690 A MB.
Networking Gear & Setup Details
Connected Audio Devices
WiFi connection to tmobile 5G router, I run USB from PC to Holo May dac
Number of Tracks in Library
40, xxx tracks
Description of Issue
Today I replaced my MB and CPU from 11900K, asus tuf gaming Z590 wifi MB to a 12900KS, MSI pro z690 A wifi mb. Of course this requires re-installing roon and restoring database. I installed roonserver, then restored my database. Relaunched roon and my remote (a windows 10 laptop in this case could not find my core got the dancing roon logo for over 10 minutes. I then went to control panel programs and features and deleted roonserver again, rebooted PC and reinstalled roonserver and then restored my database again. Same issue dancing roon logo unable to find core now my laptop and ipad air 2 had this issue. Deleted roonserver again, but this time went to look for any remnants in roonserver location found raatserver folder and roongoer folder. Raatserver folder was mostly empty but had some log files so I left that. Roongoer folder was empty so I deleted that one.
Burned out so stopping for tonight. I have moved my core and restored quite a few times as I bounce from ubuntu to w11 and I build systems for myself and friends. I have never ran into issues like have tonight. Everything is off, New motherboard Bios reports cpu core voltage at 1.68v and only 3.1Ghz CPU frequency, yet HWinfo and hwmonitor show core voltages lower. CPU temp according to bios is around 50C at idle and hwinfo and hwmonitor show much cooler temps per core but oddly show around 50C cpu package temp, at idle. 280mm artic freezer AIO cooler certainly sufficient to keep temps at idle cool. I am at a loss, motherboard issues should not affect roonserver install and database restore and then connecting to core. Any ideas on how to get me back on track. I didn't have issues with 11900K setup.
Attached photo is directory where roonserver would be, this is after uninstalling roonserver these two folders were left over.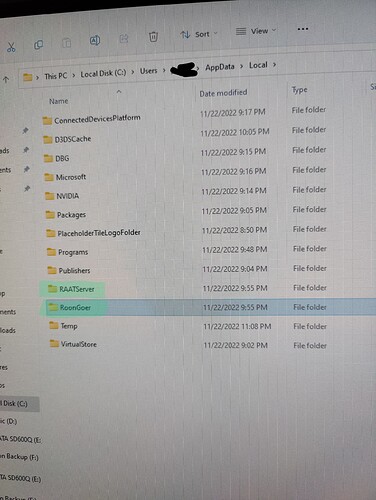 Be well
John