It is my understanding that the Meridan Unplugged spreadsheet is the definitive list of TIDAL MQA releases (http://www.meridianunplugged.com/downloads/MQA_List.csv)
If not, please correct me but if it isnt it still paints some interesting questions (for me at least)
I did some analysis of this SS (albums only, not EP's/singles) and was surprised by the original MQA bit rate breakdown: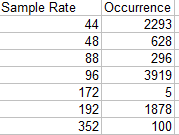 25% of the MQA albums on Tidal are 44k and 32% are less 48k or less…aka not really hi-rez
Also while there are 9119 albums, only 7872 are unique (relative to album/artist) …aka 14% are duplicates in some way.
And despite the hype and the suggested tsunami of MQA titles on TIDAL, ~9000 albums in 4 years isnt much.
So I have questions now that ROON does the first unfold.
Web research says that the maximum first unfold rate is 24/96… so given the vast majority of the TIDAL MQA albums are 96k or less…one has to assume that the first unfold for the albums that are say 96K wont hit my DAC as 24/96? (my DAC cant do the 2nd unfold).
And what of the 25% that are 44k… what will my DAC see?
Or will any MQA album that is 24/96 or less hit my DAC at the stated MQA rate?
Thanks,
Peter