Roon Core Machine
QNAP
Networking Gear & Setup Details
Unifi network
Connected Audio Devices
Various endpoints / iPad and iPhone controllers
Number of Tracks in Library
20000
Description of Issue
Since the new 903 build of Roon my iPhone battery usage has gone through the roof. The attached screenshot shows that Roon is using an enormous amount of battery, far more than anything else. My actual usage of the app is selecting some music perhaps 10 times a day to play on another device, not the iPhone. But the battery usage (full to flat in 14 hours) suggests that the app is active and doing something literally all the time.
This didn't happen before the 903 upgrade, and my usage pattern hasn't changed.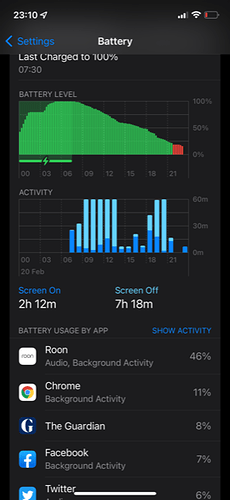 Has anything changed in the way the iPhone app works in relation to power?