Hi All
I'm having a torrid time with Ropiee and after 24 hours, still don't have a working Roon endpoint. Ultimately, my problem is that the boot sequence hangs here not for the promised 'sec' but actually several hours;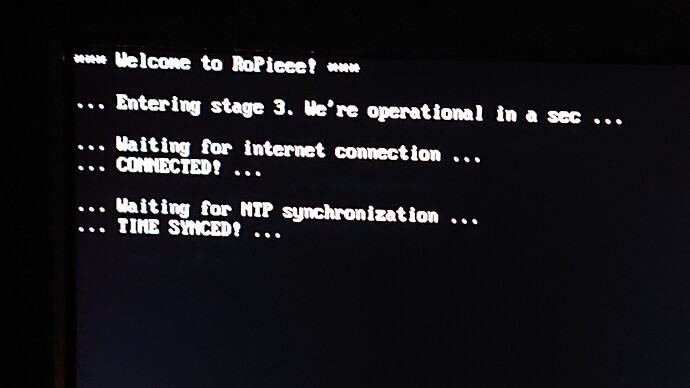 Additionally, when it does eventually fully boot, the device does not appear in Roon.
Here's what I've done and experienced so far…
Downloaded the Ropiee image, etched it to an 8GB card and booted my RasPi 3B with HiFiBerry Digi+ Pro
I have an HDMI screen attached so can see the boot and install process. The Pi is on a wired ethernet connection. My network is perfectly fine for all other devices (Unifi infrastructure with approx. 40 desktop, mobile, tablet and IoT devices)
Ropiee did its thing, installed itself, updated itself etc. (stage 2)
Pi rebooted into stage 3 and took a long time to proceed (stuck at above screen). I put this down to initial config. The green light continues to blink rapidly.
Eventually, light blinks slowly, HDMI blanks and I can access ropiee.local from my iPad.
The UI is very sluggish, slow loading the tabs etc. I set my HAT config etc. and this forces a reboot. Again, we get stuck at Stage 3 for several hours (I gave up and left it overnight)
Today, I find it eventually booted and I could access ropiee.local. Again, it's really sluggish, takes 10s of seconds to load up tabs etc.
I fired up a Roon client, but could not find the Ropiee in settings. I've tried this with both Roon 1,7 and 1.8 as I updated my Roon to see if it made a difference.
I rebooted my Pi once more (after restarting Roon server), but it's again stuck at Stage 3 after successfully finding NTP service.
What gives? This is virtually unusable, and does not appear as an endpoint in any case.
Anything else I can try???