Hi,
I am having difficulties in understanding what is going on with multitrack. I am using my own metadata because I want this to be grouped under the Composer name and I haven't managed to do this trough "Identifying" the album.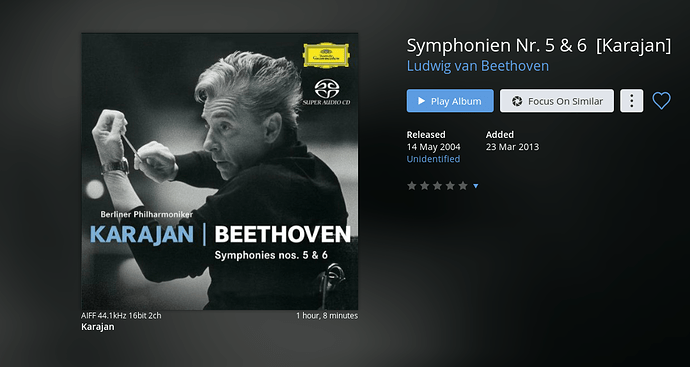 The fifth symphony works fine but on the sixth I am having the last movement identified as a separate composition Obviously this mess up with the Works.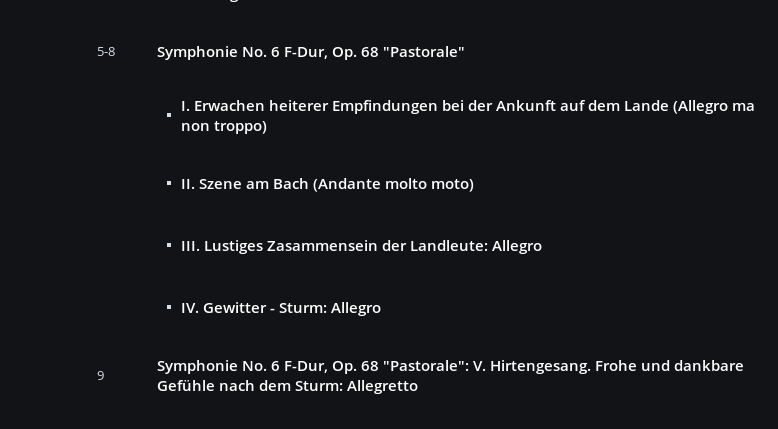 This is imported by iTunes library, I checked the metadata and all are correctly formatted with what I believe is the proper syntax, in fact it works on the symphony 5.
Symphonie No. 6 F-Dur, Op. 68 "Pastorale": I. Erwachen heiterer Empfindungen bei der Ankunft auf dem Lande (Allegro ma non troppo)
Symphonie No. 6 F-Dur, Op. 68 "Pastorale": II. Szene am Bach (Andante molto moto)
Symphonie No. 6 F-Dur, Op. 68 "Pastorale": III. Lustiges Zasammensein der Landleute (Allegro)
Symphonie No. 6 F-Dur, Op. 68 "Pastorale": IV. Gewitter - Sturm (Allegro)
Symphonie No. 6 F-Dur, Op. 68 "Pastorale": V. Hirtengesang. Frohe und dankbare Gefühle nach dem Sturm (Allegretto)
Any help is appreciated
Thanks
Marco