Yes, it was over 75 years ago when this journey started. I'll be 87 soon and in a lifetime have experience reproduced music from Edison cylinders (yes, as a lad I listened to them in the attic), 78 rpm shellacs, mono, then stereo microgrooves (I still remember the delight at first hearing the extended frequencies through the rice bubble snap crackle and pop on the bad surface LP) , CDs and finally have landed with Roon and music on hard drive. It has been a long and expensive journey.
And it was far more expensive than it needed to be because many of the "upgrades", although yielding different sound, were not moves forward but moves sideways. Different does not necessarily mean better.
The vinyl years were full of frustration in attempts to achieve Nirvana against a backdrop of challenging arm geometry and a host of other complications with Ortofon, Koetsu and other cartridges while discs spun on wobbly Linn-Sondek tables. It was an absorbing hobby but one I have no wish to revisit. And of course there were seductions into head amps, preamps, amps and speakers. Been there, done that but it was pursued for decades as I hated the harsh sound of digital via CDs.
The change in attitude to digital was inspired by laserdiscs, a medium I was seduced into when a concert I had attended appeared on disc. That started the road onto improved DACs and it soon became obvious there was nothing inherently wrong with digital recordings, it was the reverse process to converting those bits back to nice analog that was at fault. That was my mantra then and in now. To this old brain the DAC is the most fundamentally important link in the audio chain but thankfully some really successful efforts are now on the market at reasonable prices from US maker Schiit and many Chinese sources.
Over 30 years ago I designed this house, and having my priorities sensibly in mind, set it up around a pentagonaly shaped lounge/audiophile home theater room with vaulted ceiling with absorbent tiles and no two opposing surfaces generating acoustic nasties and. It worked a treat and I've ended up with impressive Sound Labs Majestic electrostic speakers left right and centre, in a 7.1 system. But this suround sound lounge system is now left for video fare, although that does includes some music DVD/BD genre.
Audio only is now only fully appreciated via headphones for a number of reasons with the only real downside being lack of sub woofer vibes generation by woofers with organ music in the other system. With headphones I feel I am more immersed in the music and hear what has been recorded more clearly. And having finally put together a few top notch systems I'm surprised at how few classical music recordings are really bad. Albums I had branded as inferior years ago do not sound that way now, all of which has me pleased at the progress technology has made. Frustrating it took so long but we appear to be there now and it does not have to cost an arm and a leg. BUT, be careful about your choice of DAC!!! And a corollary of that is high end headphones reveal all nasties in a system so that should be one of the last upgrades.
I've been using ROON for 5 years now having migrated from an expensive Sooloos system and am generally more than happy. My biggest frustration is using Apple iPads as remote controls as at times I find them completely unresponsive so have to end up deleting and re-inserting the APP. The latest annoyance has been Apple's attempt at getting me to pay a monthly fee for their cloud services, something I do not need as the iPads have little use besides ROON. The M/S Notebook is far more useful but not as convenient to use as a remote.
In this large music, mainly classical, library, I've have made a rod for my own back by using a special set of concocted tags and these have to be inserted on every new album entered. I've also altered headers so all albums featuring works by a single composer has his surname first in the header. If more than one composer, then "Various" is the lead word. It works for me and makes sorting of genre easy. Further than that I've also concocted PDF files to add in to Windows Explorer so they are accessible in ROON. Many albums have no ROON notes or digital booklet so I have fun making my own, usually using WORD essays converted to PDF. Another great time waster has been to rehash some album cover graphics, particularly for sets of albums so not all have the same boring appearance. Publisher is helpful here with files saved in jpg format and induced into Room editing. So yes, all this is a hobby in itself with listening the glorious music the beautiful reward!
I'll attach a few pictures to explain more fully what is going on here but should add that the latest Epson projector shown in a schematic has not arrived yet but is set to replace the current TW9300… Yes, "Absolute Sound" is a myth as there is no such animal, but I do believe I've gone about as far as is possible down this murky road and still retained a semblance of sanity. And the result, made so convenient with ROON and technology. yields very nice sounding music thank you!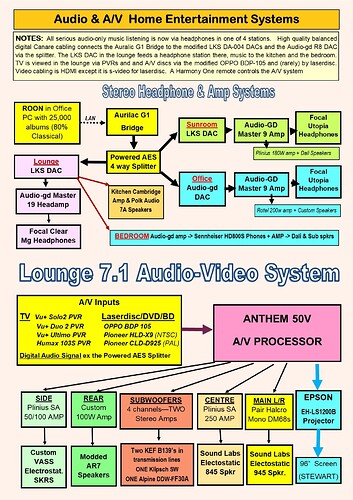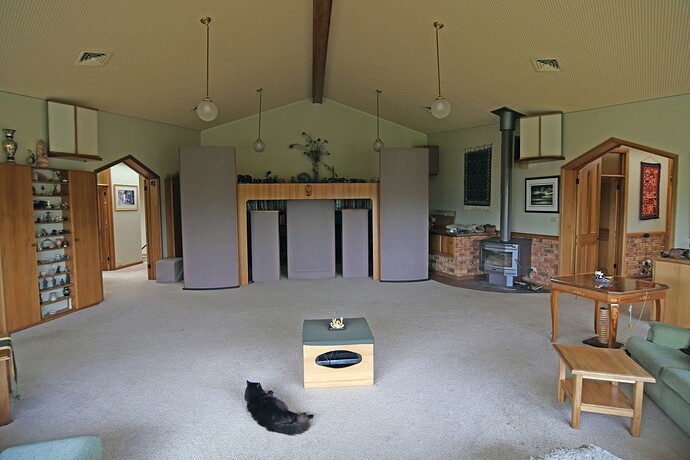 strong text