First of all I must say that I don't like Roon 1.8 because it changed a lot of what I appreciated in my user experience. I disliked at the start and still dislike it after some time to getting used to it.
One of the things I really don't get used to is the way artist albums are grouped. I find that the division by library (physical/streaming) albums and streaming (not in library) albums was very functional. If it was replaced with just one section with all the albums of an artist merging the previous view I would be a little puzzled but in the end I would get used to.
But in my opinion the new approach is very confusional and moreover i find a lot of inconsistencies.
Here you can find some example with These New Puritans, an artist that has just few albums and duplicate versions in his discography. You can imagine how this can become messy with a huge discography
This is "overview/albums in my library" section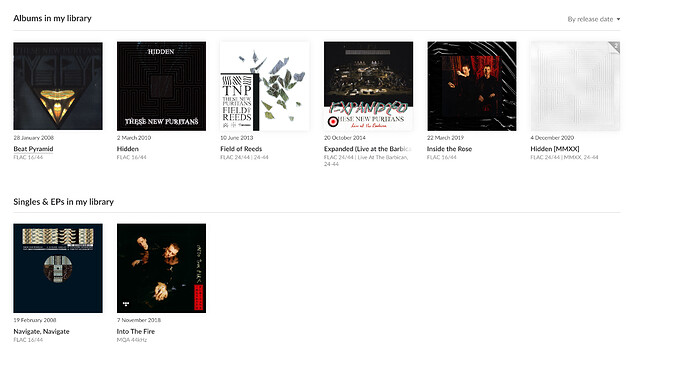 First issue: here I can't see one of TNP albums in my library "The cut". Also notice that albums are ordered by release date and that Hidden (MMXX) is listed at most recent
So let's go to discography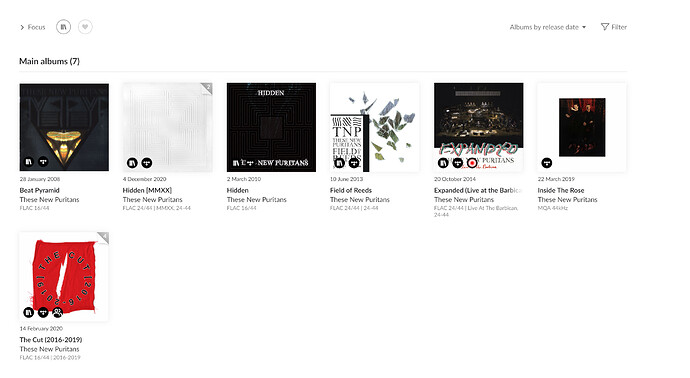 First of all notice that Hidden (MMXX) is now listed as the second older albums even if the release date is the same as before. And here's "the cut" and not just once but twice, one in main albums and another one going down to compilations. I don't understand why I should see the same album twice in same sections and not showithe same album in the library where you should see it.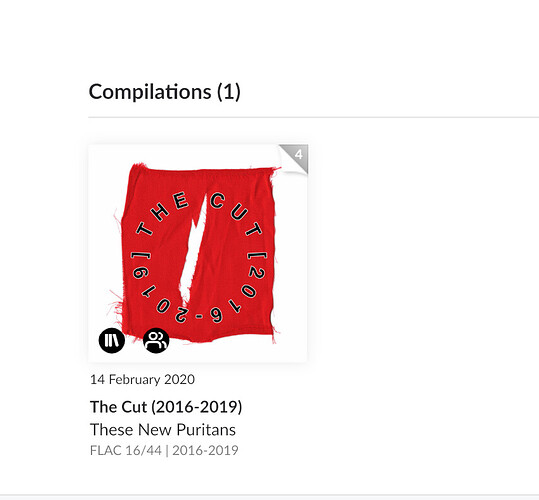 This is not a single case or a bug regarding this artist, this happens with a lot of the artists in my library (about 10.000) and for me this is a very big problem. I know it's only my point of view but I can't really understand the logic beside this: why use two different but similar section when you can use just one? But most of all I think that if you decide to force users to use these feature you have make sure that it works perfectly and with iron logic behind it. In fact this complicated a lot, browsing in my collection that I found one of the strongest quality of Roon.
I want my criticism to be constructive. I took the above example to explain the reason why I can't get used to new UI. But these is just one of the aspects that made Roon more difficult to use it from my point of view. My opinion is that most of the problems are due to this approach: new UI radically changed the user experience and Roon decided that users have to use Roon in the way they decide using the logic they decide. So a certain numbers of existing features were considered low priority. Some were deleted and other now need a lot of more clicks to do the things that until 1.7 you could do in one or two.
Of course devs can legimitately do this but it should expected that a lot of people would not be so happy. subscribers before 1.8, choose a software that behaved in very different way from 1.8 and of course for lifetime subscribers like me or users that put a lot of effort managing and refining their library is not so pleasant.
I still love Roon but not as before. I hope to get used to it and that Roon will be able to learn both from the positive than the negative feedback to 1.8 to do it better than before. In the meantime i will will wait trying to get used to 1.8
PS to administrators: I opened a new topic because i wanted to focus on My albums and Discography sections. Sorry if it's wrong and in case please merge or move it where you think is the right topic