How do I sync my laptop with other endpoints?
Hello Kirby. Do your endpoints show up under audio devices in the Roon core? If so you should be able to select an endpoint when selecting music to play.
When you launch the remote app on your phone it should connect to the core and display your library.
iPhones/Tablets are set by default to a private zone so in the settings in the roon iPhone client you need to make it non private in the audio settings. Then you should see it from other remotes.
My endpoints are an iphone and ipad. The display shows my core and "connecting" on my iphone, but it times out without actually connecting.
What are the steps to accomplish this?
To clarify-both your phone and ipad never get past the "connecting" screen? Your library should be visible immediately after launching even if device does not have Output enabled.
My library is visible on my core. I cannot get the core to successfully connect with other devices.
Make sure your wifi and LAN are on the same address range…some routers put the wifi on a different network segment. Also make sure your mobile devices are not on a guest network as that will not work either.
I've moved this #support so perhaps you can fill in the details or create a new support post and start again.
Core Machine (Operating system/System info/Roon build number)
TEXT GOES HERE
Network Details (Including networking gear model/manufacturer and if on WiFi/Ethernet)
TEXT GOES HERE
Audio Devices (Specify what device you're using and its connection type - USB/HDMI/etc.)
TEXT GOES HERE
Description Of Issue
TEXT GOES HERE
Hi @Kirby_Green,
As @wizardofoz mentioned, filling out the template will definitely help us understand your setup and better be able to help here.
In addition to setup details, can you verify that the Accept Remote Connections setting is set to yes?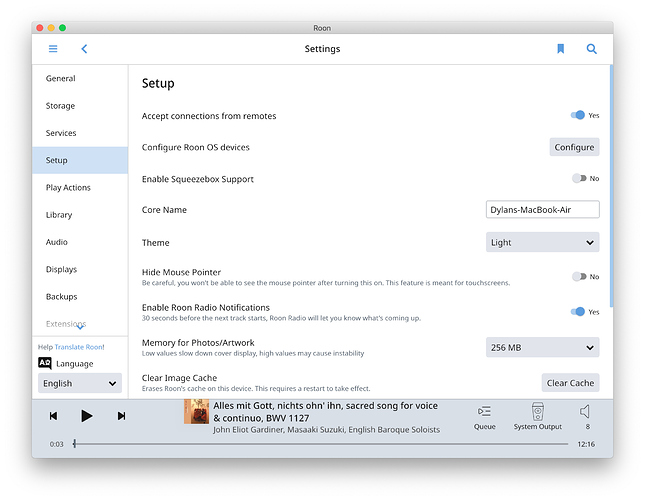 Ok thanks! I will provide setup info. Does my core need to be hard wired to ethernet or is a wifi connection sufficient?
Hi @Kirby_Green,
As noted in our Networking Guide, we recommend using an Ethernet connection whenever possible. Generally, it is much more reliable than WiFi, and especially if you find yourself experiencing issues that could be related to networking, using Ethernet will help you achieve better results.
This topic was automatically closed 365 days after the last reply. New replies are no longer allowed.