Roon Core Machine
Model: MeLE Fanless mini PC Quieter 3C
CPU: Intel Celeron(R) N5105 @2.0 GHz, 4core CPU
RAM: 8GiB
Disk capacity: 379.8GB( included 256GB SSD)
OS: Linux Ubuntu 22.04.2 LTS (64bit), GNOME ver:42.5, Windowing System:X11
Networking Gear & Setup Details
I am using Netgear's RAX 45 (Wifi 6) router and I am using Half Giga network.
Public repeater → Public router → RAX45 → Wired PC (Roon server on Linux ubuntu) &
Wired Audio device
Connected Audio Devices
I am using Naim Uniti Atom and this device is wired to the same router as the Roon server. As you know, Atom is a Roon ready product.
Number of Tracks in Library
I'm only using Tidal streaming service. There are no tracks or Albums in my PC
Description of Issue
Hi!
I can't listen to music because Roon suddenly disconnects.
At this time, when I checked the connection status between the router and the roon server,
I couldn't see the roon server.
In this case, after rebooting the PC, it is confirmed that the connection is normal.
However, it also disconnects again after a while and repeats the same phenomenon.
This phenomenon used to be very rare, but it is happening almost every day these days.
The only way I can solve this is by physically powering off the PC.
I don't think there's any other software interference because my PC is only operating
for the roon server.
I don't know what to do. I ask for your help.
[problems]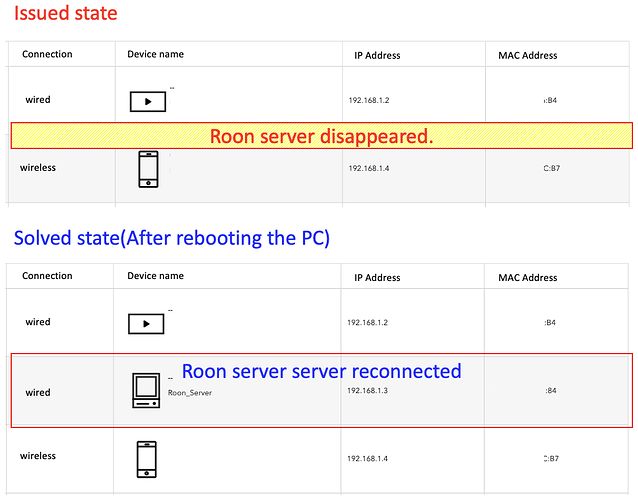 [Roon remote error]