Core Machine (Operating system/System info/Roon build number)
Windows 10, Roon Build 756 (Server and Client)
Network Details (Including networking gear model/manufacturer and if on WiFi/Ethernet)
Windows 10 Pro Server connected via LAN to a TP Link T2600G-28MPS 4.0 and from the connected to the ethernet port of my NAD 368 with the BlueOS-Addin Card.
Audio Devices (Specify what device you're using and its connection type - USB/HDMI/etc.)
NAD C368 with MDC BlueOS 2I-Modul
Description Of Issue
Since the 1.8 Update the Roon Core only authenticates the mqa-file, but doesn't seem to send a valid mqa-stream to the amp.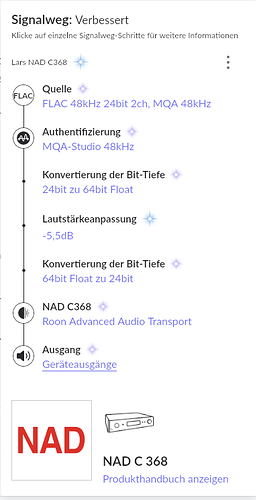 In the device settings decode and render is activated: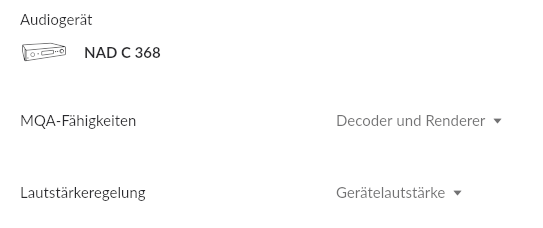 But I had to disable MQA-Core-Decoder, because otherwise Roon is unable to play to the amp, because "it's loosing connection"