I am sure they will eventually but tbh we all only noticed this 2 or 3 hours ago…
Since, I haven't updated, Appearances were in Overview, for me, stuck under a "Show More" click line to expose the Appearances. The selected option remains sticky. Under discography, it does display both when In Library is selected. So, I would say a new bug.
Maybe you can help expedite this to the right level of competence within Roon for swift resolution. We dont like too much to wait another four weeks for this to get fixed

Well, bbrip, as you know us mods are just volunteers, so, I don't have anyway of escalating that you do not have as well. Other users in this thread have already pinged support directly, so I think that they are seeing this and passing it on to the dev guys.
Clearly underestimated your powers.

No need to escalate folks – we're investigating.
If you're seeing this, please let us know which artist you're having this issue with, exactly what you're seeing on Overview vs Discography, and whether you use a streaming service.
Thanks all!
ok, I already mentioned Carlos Mena (4 "appearances" missing) and Christa Ludwig.(soemwhere between 15 and 20 appearances missing)
Third example Andras Schiff. I have 23 piano recitals / recordings with him as "Main Artist". They are all there. Then I have a good handful of "appearances" in chamber music settings. They have all disappeared.
I dont intend to provide a report on each and any of my 2500+ artists. There's just something fundamentally wrong here. Should be easily spotable
Thanks
NB: Should habe mentioned: Using Qubuz. But some of those "appearances" may well not be on the streaming service but just in my library.
It might be easier to list the artists that are not problematic. But to list just one I'll offer Michael Brecker. His 7 albums as main artist are properly listed as are two appearances, both on Pat Metheny compilations (Works and Works II). But none of the following appearances:(I listed what roles he has checked)
Richie Beirach - Some Other Time (Performer, Tenor Saxophone)
Joey Calderazzo - In the Door (Tenor Saxophone)
Chick Corea - Three Quartets (Tenor Saxophone)
Eliane Elias - So Far So Close (Tenor Saxophone)
Peter Erskine - Peter Erskine (Tenor Saxophone)
Herbie Hancock - The New Standard (Tenor Saxophone, Soprano Saxophone, Saxophone (Tenor), Saxophone (Soprano) )
Jaco Pastorius - Word of Mouth (Saxophone)
Jaco Pastorius - Jaco Pastorius (Horn, Tenor Saxophone)
Jaco Pastorius - Birthday Concert (Tenor Saxophone, Saxophone)
And 14 others, but this should give a clue as to the extent of the problem. (And as these are ones I have not edited, it should give a clue as to the general messiness and inconsistency of the metadata we have to deal with.)
I wasn't implying a comprehensive list – just some examples our team can use while we investigate.
Also, are you using a streaming service, or local content only @Stan_Jones ?
Sorry I missed that - local content only - no Tidal or Qobuz
Looking thru my library, the vast vast majority of artists with appearance and production credits are now missing, so making a full list seems a bit much. Some examples of the different behaviour / missing info I've already listed above.
Also I created this thread for artists with missing MAIN discographies as well (albums and singles). The behaviour seems similar, so maybe it's related. Anyone else have an artist's main albums disappear on them from artist view?
Here an example that may help a little more nailing this down. I have looked at an artist (Alina Ibragimova) who's albums as "Main Artist" are not available on streaming services (she records for Hyperion).
However, she is also a member of the Chiaroscuro Quartet which records for BIS and therefore are available on Qobuz.
In this case, Alina's appearances as member of the String Quartet do show up in my library:
And, for whatever reason, despite these Chiaroscuro albums being in my library already, they don't show up with the in library symbol (though two do). Lots of strange behavior going on in regards to symbols, what's in/out/appearances etc.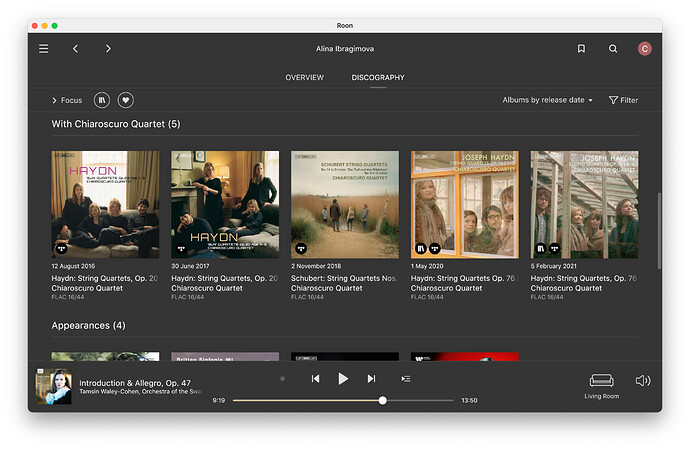 Another update to try and pin down what's happening. It seems to be behaving as if the information is there, but the links are useless when clicking further.
For example, I tried going into MVO Trio's album "Live In New York". First screenshot shows Vladislav Delay as credited: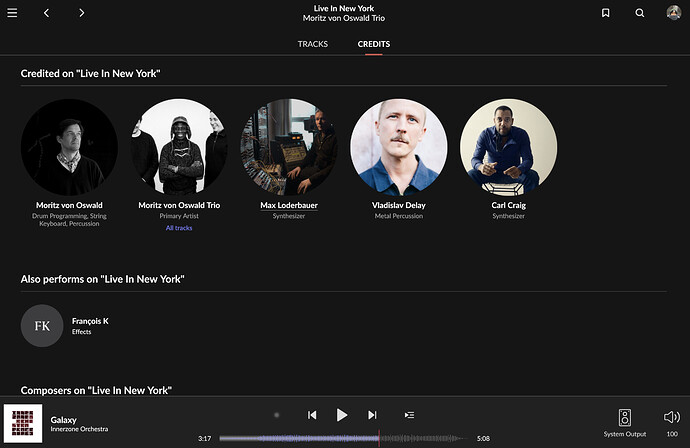 But when actually clicking on him, there is zero information of him performing on ANY album, let alone the same album that allowed me to click on his name in the first place: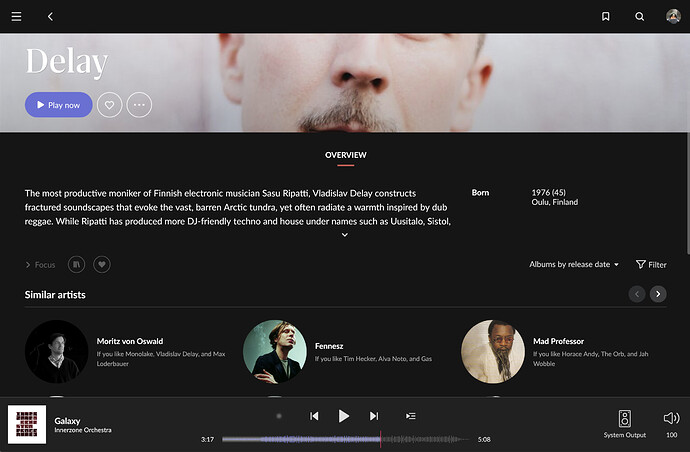 Another example of this behaviour: When clicking on the mastering engineer, who is present on all 5 MVO Trio albums in my library, it looks like this: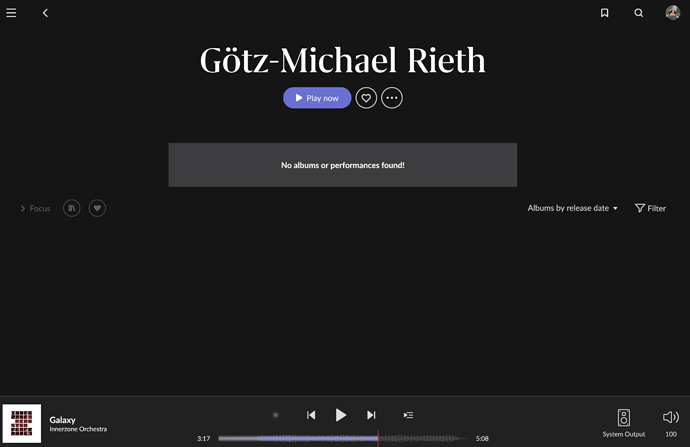 All with local content.
I am experiencing the same issue. I got very confused at some point so I disabled Qobuz and I can confirm the albums of many artists are not showing up anymore.
Hopefully, this will get fixed before my trial expires…
I think that is yet another problem. Where Roon shows streaming versions of albums without library symbol while you have that same album in your library as download.
The whole library management has degraded into a huge mess with 1.8
Two week trial? No chance.
Does Roon allow to downgrade, even at the expense of re-importing the entire library? It was working fine two days ago.
No external services enabled.
A single example: Matthew Stevens is a guitar player. He is correctly credited on Linda May Han Oh's album "Walk Against Wind." If I click on his credit on that album and go to his page, I see his Main Albums, but only two (of his many) Appearances, and neither of those appearances is on "Walk Against Wind," the album from which I clicked on his credit.
I got lucky - I still had the previous version in my trash! I reinstalled it, and now everything is working fine.

I will keep testing Roon on this version, and avoid any update until the bug gets fixed.