Hi @support,
Sorry for asking for resolving a topic listed elsewhere but scanning those threads, their resolution didn't help my issue.
System
PC: Intel i7 6700K, 16GB DDR4, ASUS Maxiumus VIII Gene motherboard (latest BIOS), Intel 750 400GB NVMe SSD for OS/Apps, ASUS Dual GTX1060 3GB video (latest driver), Windows 10 Enterprise, on-board Intel I-219V 1Gbe NIC.
Network: ASUS RT-87U router. QNAP HS-251+ NAS - fw 4.2.3 (both on HDPlex 100W LPS).
Music: Stored on public SMB share. PC -> USB -> Curious Cable 1.5M -> Uptone Regen -> Curious Cable Regen Link -> Chord Hugo TT (ASIO 1.04) -> Mundorf Gold/Silver wire w/ Eichmann RCA -> Focal Alpha 65
Roon 1.3 (build 208) stable (64-bit) - from RoonInstaller64.exe
After launching, it enumerated the storage and built up the library. I keep getting No Audio Devices Found. If I restart the app and look for the audio devices, it shows this: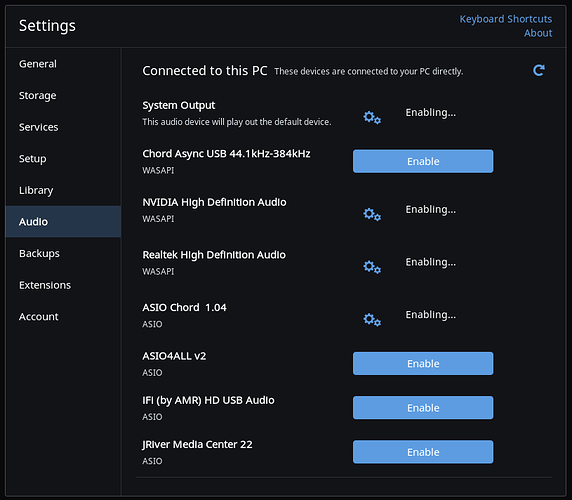 But soon after, it becomes this: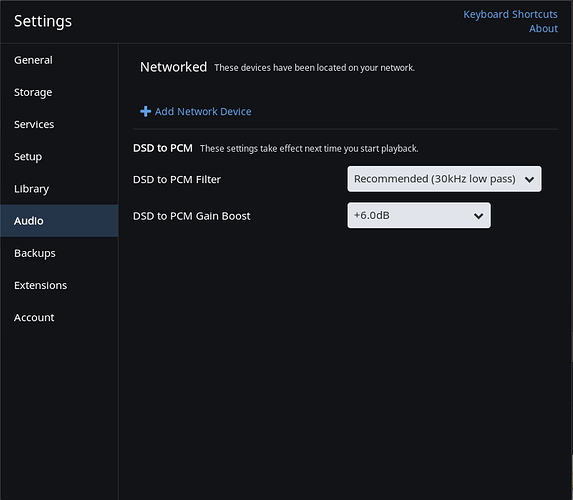 If I click refresh, it just spins for a long time. I stop after an hour.
My other audio apps (JRiver MC 22 and Foobar 2000) can find the device without issue. I've tried disabling Windows Defender and the Windows Firewall. Currently, I have excluded the RSAATSERVER.EXE and ROON.EXE from Windows Defender.
Nothing works.
I've rebooted the NAS and PC and power-cycled the DAC. What may I be doing incorrect that's preventing me from using Roon?
Thanks in advance.
PS. I tried attaching the log file but it won't let me.
Regards,
Hedwig Poon