I wonder if they both used the same UI/UX developer? @danny will probably know.
I don't see it anywhere in play store?
Is it iOS only or?
Seems like it's only ios at least atm
Jplay has been around a long time, this is a new version
They have a Windows version too, looks like a crappy UPnP based Roon knockoff. Totally inferior in every way.
But not a UI like this for windows AFAIK. This only came out in December after several years of development. It looks like Chris has had a test version before it came out.
It an overpriced UPnP controller app your still need UPnP software for your own files so has all those horrible limitations but does present it in a nice way but what a rip off at £43. Tbh this is doing exactly the same as LMS with less services and a nicer Roonified app. Audirvana is better value as you get server software and DSP. It does combine streaming and local together like LMS and Innuos Sense but has no advanced library features like versions, no focus no editing merging etc. No artist artwork just empty circles for the most. it's basic really it's just a posh coat.
Changing playing zone is dreadful and no mulitroom grouping.
It's better layed out than mconnect which is the crowd for this. I can't see it being any better than most devices own apps if I am honest you know those will works as advertised, being a 3rd party al bets are off with UPnP control.
It really does look similar to Roons layout about the same speed to.
Big plus search actually works so it's a winner and with spelling errors , now that's something Roon can't do. But oddly only when searching Qobuz so must be using their api search as local search fails just like Roon.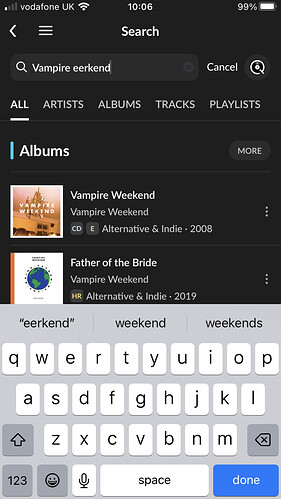 Will have to see how it handles gapless. You can tell they are aiming it this clearly at Roon as it says doesn't require a core. But that is BS as you do need a UPnP server of some sort for you own music files.
You only get info on artists and albums from the streaming services nothing for local media at all other than track info. It doesn't tie it all together so nothing like Roon here. Local music handling is what you get from UPnP server only.
They even have the cheek to call the library filter Focus. Not a bad choice but basic compared to Roon and can't save them by looks of it.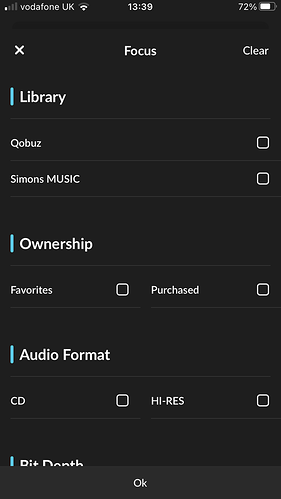 This is just an overpriced UPnP app. It has in theory the same functions as mconnect. You need a Server, like minim in both cases. Minimserver resides for ex on your Nas. With both apps, you can control that server on your Nas. I used something like that 8 or 9 years ago. So it is a time machine back into the Stone Age of Computer audio.
Years ago that Jplay company tried to hijack Jriver as frontend for their UPnP plug in. They got decisively kicked out. Copycat people in my view with a crazy price for a UPnP remote software.
They are a company that sells pc audio hardware based on FUD, same goes for this app. Artist bios only if you have Qobuz or Tidal and only albums in those services same ones as your own files nada metadata. It's a real snake oil product. Stay clear and if you want a cheap alt to Roon use LMS it's free supports way more and will work across more kit and isn't limited to iOS.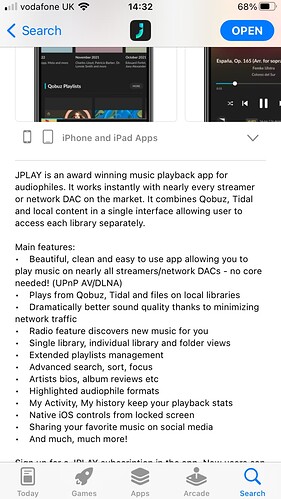 Not sure where this supposed better SQ comes from as it sounds the same as any other app and Roon on my stuff. Also the volume control doesn't work on some software UPnP renderers such as UAPP.
There are lots of alternatives to Roon, but none of them can match up with Roon.
better sound quality=dirty marketing talk
Used there free 2 weeks trial,it's actually pretty good considering its the first release,ui is really smooth,found my marantz avr&zen stream straight and mqa was perfect,but id imagine roon won't be happy as theve totally tried to copy there ui,how can they get away with this,but it's nots worth the price
I remember JimH being rather scathing about the value of JPlay , just a glorified driver etc. It seemed they were simply adding to other software efforts.
If I remember rightly doesn't it shut down some Windows processors to give a "less cluttered PC" etc
Looks like they have moved on a bit
I guess I'm missing something. If you have a UPnP setup (as I do), how is this an improvement over (say) Linn Kazoo? What is the annual subscription buying you?
It merges streaming and Qobuz into your library similar to how LMS and Innuos Sense do. It takes your UPnP source library and what yuo have in Tidal/Qobuz favourites and shows you them side by side under Your library view, thats about it. Its in no way as indepth as Roons merging and integratation as it has no concept of versions, no manging metadata, tags etc, Artist and library info only availale for streaming versions not your own music. So it may be more to somes liking but its not adding huge value as the merged brary is a simple view and non editable. It does employ some useful filters but not deep enough like Roons focus.
I see. That's something, but not $50/year worth of something.
Thanks.