*Expected release Fall 2022.
The KEF web site says June 2022 availability.
The US site at the link above says Fall 2022 for roon ready as quoted above.
They aren't Roon Ready certified; expected release is Fall 2022. But I'm sure some Hegel owners could tell a cautionary tale. Nothing is Roon Ready until it is certified Roon Ready by Roon Labs… I thought there was a stop on this kind of marketing.
So the leaks were real, I guess. I like the looks. They appear to use the exact same streaming platform (W2) and app as the LS50WII – my guess (and nothing more) is that they'll be RoonReady by the time these are available to the public.
I wonder how they'll hold up to my LS50WII/KC62 combo when used without a subwoofer though. Time will tell.

I take it you like your KEF setup?
I love it. The LS50WII sound great (and the KC62 is really something) and are a true and tried modern platform – they literally eat anything you throw at it: Roon, Spotify, Airplay, Tidal Connect, Chromecast and UPNP.
In a living room context where they are very actively (pun intended :-P) used by the whole family, it is a great convenience to have them autoswitch and turn on/off when anyone is using whatever they are using (mostly Roon (me), Apple Music (wife) and Spotify (daughter and me)). And then there's the TV, hooked up via HDMI/ARC – and a few external inputs (RCA/Toslink/Coaxial) for toying around with Apple Music highres via iOS and HQPlayer.
All boxes ticked.

As far as I'm aware, we have an LS60 with Roon. It's the same platform as LS50W2, but Roon don't certify platforms, only products. We don't anticipate any hiccups, it's just hopefully a case of however long it takes for it to go through Roon.
I also have to add that I've had a testing pair since January, and now I'm so happy that I can let people in the house again now, because there was no way I was pulling them out of my living room.

Hi Ben,
It says DSD network input, but, doesn't give the resolution in the marketing materials. Do you know what that is?
"There's also support for DSD256"
True. Be aware though that everything is resampled to 192kHz (if a wired interspeaker link is used) or 96kHz (speakers linked wirelessly):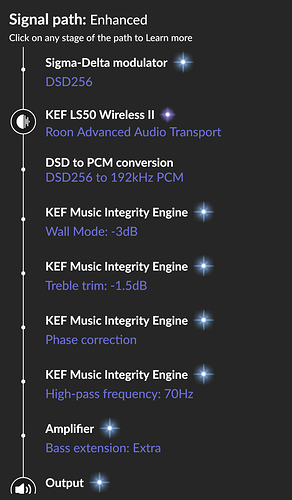 They look good. I'm a bit surprised that the remote seems to be the same as the one I have with my Kef LSX (which, while functional, feels and looks cheap), but other than that they look quite impressive.
It's a bit different between the LS50WII/LS60W and the LSX, but rest assured: it's equally bad. Never use it, on either system.
Since discovering kefctl I don't use it either.
Kefctl is great. Even better since I hooked up an ortho bluetooth remote knob to it, so volume and play-pause/foward/previous commands sent by twisting or clicking the knob are translated into kefctl commands.
Pykefcontrol does more or less the same for the LS50WII with Python – will probably work for the LS60W as well.
I'm only using it to turn them off when I walk away from my desk - play, pause etc is covered by @Ronald_Record's excellent Roon Command Line Control. I did think about getting an Ortho remote after seeing your other post, but as I have everything coordinated by BetterTouchTool when I'm at my desk – literally at my fingertips – I decided it probably wouldn't get much use.
Hehe… We're on the same track, it appears.
I find them to be quite addictive (something about mindlessly adjusting the volume or pausing the music when answering the phone). But in any case – scripting the KEFs is a joy. I run a few Shortcuts automations on the iPhone home screen and in the Mac's menu bar (TV: turn on Apple TV, switch KEFs to HDMI, open ATV remote app on phone and Off: turn off the KEFs).
Oh well. Good fun. Here's hoping I can contain myself once I've listened to the LS60W.