Details on your Core machine (OS, Hardware specs, Roon build)
Pinkfaun 2.16X Server, running on Audiolinux, AMD 7 3700 processor, 16GB RAM, 1 HD Samsung SSD 250GB for Roon + 2nd HD Samsung 4TB SSD for local music
Roon version 1.8 build: 778
HQPlayer: HQPlayer Embedded 4.19.1
Details on your Remote(s) (OS, Hardware specs, Roon build)
iPad Air 2 – 64GB - running iPadOS 14.4 - Roon build: 764
Samsung S10e – running Android version 11 kernel 4.14.113-20607146 – Roon build :764
PC running Windows 10 Pro - Intel(R) Core™ i7 CPU 870 @ 2.93GHz Ram 8GB, Roon build: 764
Networking details (especially what hardware you're using, how everything is connected, and anything notable about how it's all configured)
Ethernet & Wifi Mesh network built on 3 * Asus Zenwifi XT8
Connected to Service Provider modem
Speedtest connection speed ethernet 93Mbps download – 18Mbps upload
Roon Core connected via ethernet, Remote PC connected via ethernet
Mobile Remotes connected via Wifi
Audio devices in use
T+A 8 DSD connected to Roon Core, using HQPlayerEmbedded, connected via USB
Endpoints : 2 * Logitech Squeezebox Touch , connected via Wifi
Library details
Local library on separate internal SSD 4TB harddisk in Roon Server
Qobuz Hi-fi Sublime streaming service
59018 tracks (3885 albums – 2297 local, 1588 Qobuz)
Backup details
Location 1 : System disk 250Gb on Core Machine
Location 2 : Synology NAS 10,8 TB capacity
Location 3 : USB disk connected to Synology NAS - 7,2 TB capacity
Description of Issue
WRITE HERE
Disclaimer: I have read and followed the following instructions from the Knowledge Base facts.
Issue:
I am trying to setup a second instance on a Windows 10 Pro machine, using a restore from my primary install on an Audiolinux server (Pinkfaun 2.16X).
Here are the techincal details about the Windows platform

Installation of the software runs fine, unauthorizing of the Primary installation allows me to connect to and log in at the Windows installation. I can execute a restore of a backup, made especially for this exercise.
After succesfull resore, Roon requests me to relaunch.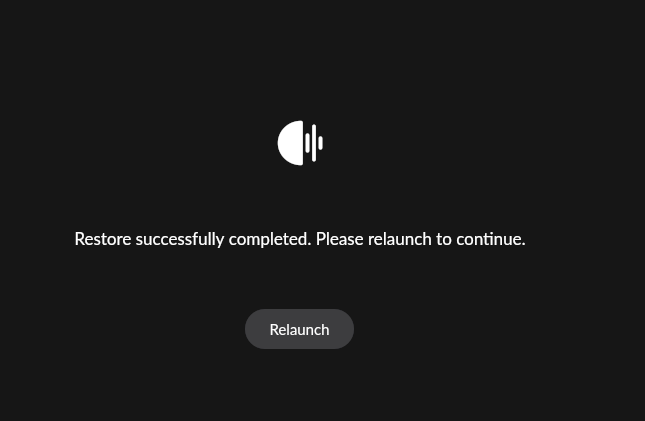 Clicking on this field stops Roon completely, Roon does not relaunch by itself.
So, I restart Roon manually, I am requested to login.

After succesfull login then I get a empty screen with the Roon logo blinking.
A lot of CPU/memory resources are being used for quite some time (> 1 hour ?), but nothing happens.

Some time later, CPU and memory usage are falling back to minimum, but still nothing happens, excoet for the white screen with the blinking logo.
To be able to use Roon again as Roon Control for my primary install, I have to uninstall Roon completely and re-install from scratch.
Any guidelines to what I should do?
Dirk