Internet is fine. Tidal and Qobuz native apps works fine. Yesterday it was fine.
Hmm, don't know where you are, but as of now in Amerika, I have both connections.
Something in your network, maybe.
I'm in Russia but that's not the point.
NUC ROCK reset helped. It's bad that ROCK doesn't work that well.

(because it helped only reload ROCK OS, and not Roon Server)
Hi @Katun,
Just to verify, things are working okay for you now here? How did you reset ROCK?
Has this behavior occurred any other times?
Yes, it's OK now after reboot ROCK.
Each time before listening to music in my system I turn on NUC ROCK see my profile) and turn it off after listening. For the first time in a long time after turning on NUC ROCK, there were messages about a connection error with both Tidal and Qobuz in the Roon app on iPad pro. Rebooting the Roon Server did not help, and rebooting the NUC ROCK helped.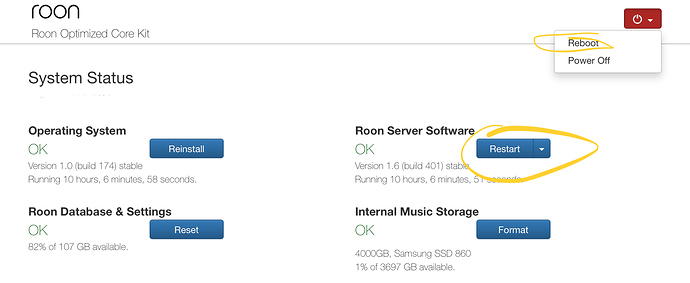 This topic was automatically closed 36 hours after the last reply. New replies are no longer allowed.