Roon Core Machine
Innuos Zen Mk3 (latest firmware)
Networking Gear & Setup Details
Fritzbox 4040 and Silent Angel Bonn N8 switch
Connected Audio Devices
Room 1: Linn Selekt DSM (streaming DAC/preamp)
Room 2: Pro-ject Stream Box S2 ultra → Denafrips Ares II (USB in)
Number of Tracks in Library
16k tracks
Description of Issue
The problem I have is with the sample rate converter in Roon
It works as expected with the Linn Selekt, meaning I can "custom" convert PCM to DSD.
But when choosing the second listening zone the Stream Box S2 ultra with Denafrips Ares II DAC, this option is not available, I only can convert all input into PCM up to the units specifications, but both units are capable of DSD, So I would expect that option available, same as with the Linn.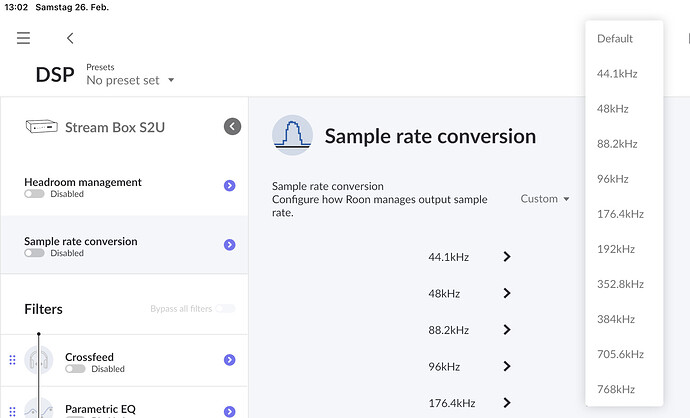 Where is the error?
By the way, which Filter do you guys prefer?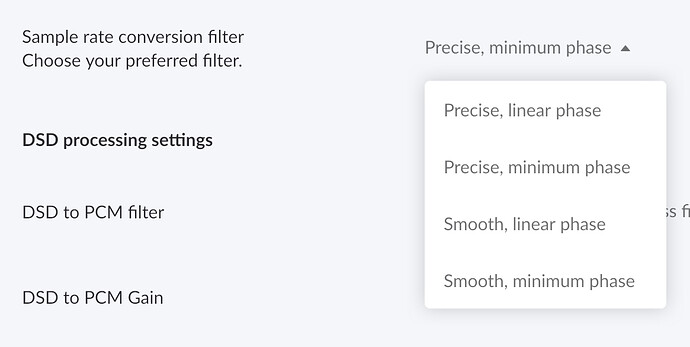 Thanks in advance for helping me setting this up.