Trying to log in to Roon right now, having rebooted several times, Whats going on!!!
You'll have to be more specific about what's wrong.
For the quickest support, fill out the form that was presented when you made a post in support section.
I.e.-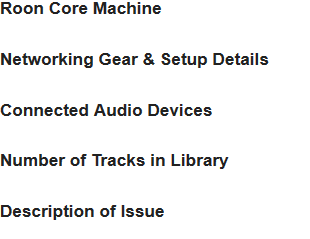 Hi @Edwin_Tierney1,
As suggestedabove , please provide a brief description of your current setup using this link as a guide.
Make sure to describe your network configuration/topology, including any networking hardware currently in use, so we can have a clear understanding of how your devices are communicating.
Was Roon working for you previously with this setup? Are you seeing any errors?