Sad to see this regression bug - strange no one was noticing in beta testing.
Scrollbar is there, at least on my iPad.
However it only becomes visible after you swipe your playlist page up and down (grey view).
To use it you have then to press and hold, very precisely !, until it turns blue.
I agree thiscan be improved.
Dirk
Hey @Markus_Hubner,
Sorry to hear the scroll bar is not displaying on your device. Could you please let us know what device this is and if it absolutely never appears. Not even when following @anon90297517's advice?
This is on iPhone 12 Pro using latest iOS.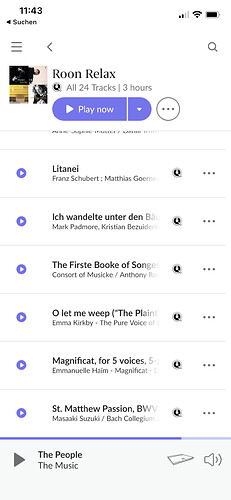 It never appears. It works on the iPad - so it's a Smartphone only Bug.
@beka Please confirm and priority to dev team so that this regression bug is fixed soon.
Deinstall and reinstall the roon app.
Also tried that with the same result.
Hey @Markus_Hubner,
Thanks a lot for your patience while Monday came around and I got a chance to check with our team.
It turns out that the scroll bar was not present on previous builds either since Roon 1.8. This isn't a regression bug. It is something our users are discussing, for example here:
Our team is keeping an eye on this

Hey @Markus_Hubner,
Thanks for sharing your two cents on this
. I've taken it to the team, so they know about it and take it in consideration moving forward.
I wish I could do more than that

Being into the software development & usability engineering industry for over 20 years this is definitely as pointed out by others too a very obvious bug.
Hey @Markus_Hubner,
I was attempting to point out that it wasn't a regression bug, as this is how the app has been since Roon 1.8. However, this does not mean it cannot be a

Thanks for your invested interest and for sticking to your guns

Your (and others') report on this is with our team

Hey @Markus_Hubner,
I wanted to follow up as soon as I heard back from our team. There's a ticket with our dev team for this

So unfortunately still no fix in recent build / update. What's the status on this from the team?
Hey @Markus_Hubner,
It's great to see you're keeping such a close eye on what's included (or not

) in every update. It shows how important this is to you.
I wish I had more to say than this: after checking with our team, it looks like this ticket is still with our devs. We'll make sure to update everyone as soon as this is implemented.
A consistent usability / user experience is very important for users - so that's why people closely follow this.
There is a scroll indicator already in most places in the app like: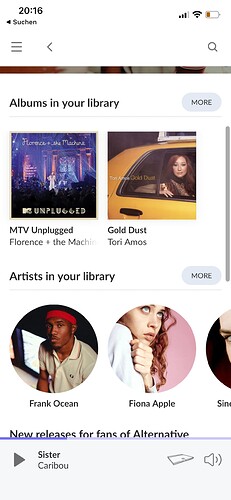 Thank you for your feedback, @Markus_Hubner. We're taking it into account moving forward.
We'll post updates as soon as we have them

@beka @kevin Sad to see this still not fixed. As more playlists in Roon are used this is increasingly becoming annoying.
It's for a good reason a default UX item in every OS and app. And of course found in Spotify, Apple Music etc.
This topic was automatically closed after 21 hours. New replies are no longer allowed.