I have installed Roon, I see my music collection in it, I have named a Zone for this PC as "workshop," in Audio Setup I see the Creative XFI WASAPI twice, and Creative ASIO once. Setting any of these to ENABLED and playing a track from my library I see the played time of the track advancing but there is no output from the Creative XFI card.
I also have WINAMP on this PC. I have set the DirectSound output to CREATIVE XFI. Using Winamp I can play any stream or select any file I like, it works fine, I can hear it. Hearing it is the objective here… can't hear anything from ROON.
How do I get ROON to output audio from my Creative XFI?
See =>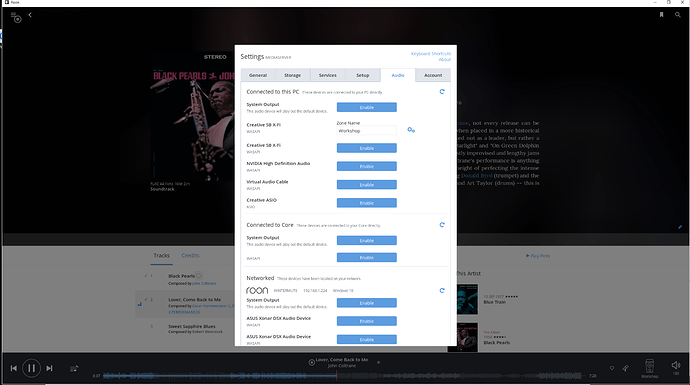 MY PC (workshop):
Windows 10 Pro/ 64, i7-4790K, 16 GB RAM, 1 TB data drive, 512 GB SSD boot drive, gigabit ethernet to my Roon Server
ROON SERVER
Windows 7 Ultimate/64 ,i7-4790k, 32 GB RAM, 10 TB Raid 5 storage on Adaptec 3405 controller.