Core Machine (Operating system/System info/Roon build number)
Windows 10 PC (Core i7 4790K, 32GB Ram, 2TB SSD), On Wifi (line of sight to router). Fully updated OS. Roon 1.7 Build 537.
Music: Local library (9000 tracks) stored on same PC as Core. + Tidal
Remote: iPhone 11Pro (OS and Roon app updated).
Network Details (Including networking gear model/manufacturer and if on WiFi/Ethernet)
Synology RT2600ac Router
Audio Devices (Specify what device you're using and its connection type - USB/HDMI/etc.)
Bluesound Flex 2i (Ethernet wired directly to router)
Bluesound Soundbar 2i (Ethernet wired via TP Link ethernet power line adapter)
Description Of Issue
Over the past few days I started receiving the message 'Nothing Similar found: Limiting Roon Radio to library'. This happens every time I try to start roon radio (select a track and let it finish / select an album and click on Roon radio).
Even more puzzling though, the same message pops up if I play a radio station. With radio playing, each time I launch the app on my iphone, the warning pops up as shown below: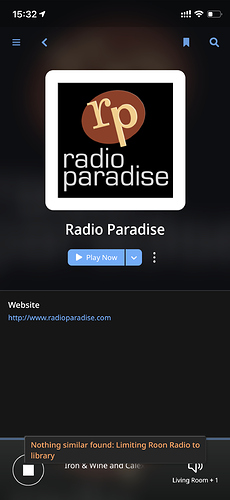 Things I tried: Reboot Roon Core, Log off from Tidal and Log back in.
Any help / advice will be more than appreciated
Many thanks