Core Machine (Operating system/System info/Roon build number)
Synology RS815+ / Roon 1.8 latest build
Network Details (Including networking gear model/manufacturer and if on WiFi/Ethernet)
Custom Mikrotik network (works extremely well)
Audio Devices (Specify what device you're using and its connection type - USB/HDMI/etc.)
Matrix Audio mini-I Pro 3, LAN streaming
Description Of Issue
I found album "Rockferry" from Duffy, it came out as recommended for me. I liked it and clicked + to add into Library. It was added and + changed to heart which allows me to put it into favorites. OK.
But, when I click on Home, and then (on bottom left icon) to go to "Now playing" screen (that album was still playing), it shows like it's not in the library (sign "+" is visible again, not the heart). And I can click and add it to library (again)… Here is screenshot that explains it the best.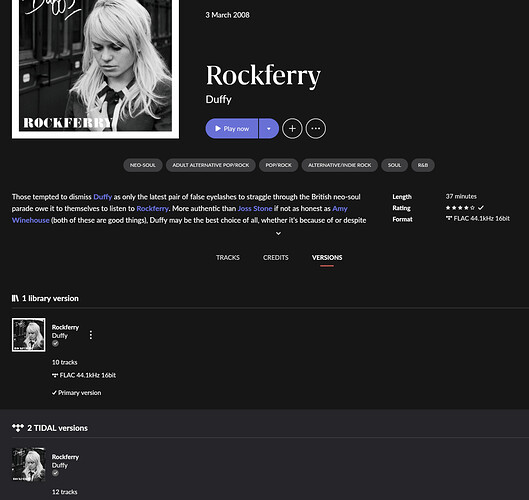 You see that it's in the library, but you can still click + to add it into library.
But, when I go to the library, album is there, I open it, shows properly with the heart, play the music, cool, click on Now playing, no heart again, it's just +.
It shows like this in both Windows app and in on iPad Pro.
I restarted the Core and apps but it's the same.
Second issue: when "Album art" is shown, cover dissapears from lower left corner, I believe this is by design, but it's bad, I'll explaing why. This album ("Đorđe Balašević - Bezdan") has only covers and you'll see this: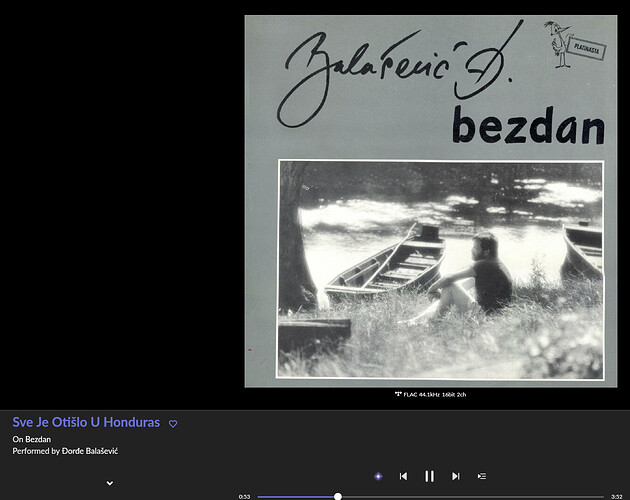 There is no album cover in lower left part, but that part is also corrupted - when I move mouse left from the arrow I can click, but nothing is shown to be clicked at (I can't show you mouse hand on the screenshot, though).
Why is this important? Because I can't find the quick and easy way to get to track list from the "Now playing" screen, except from:
a) clicking on album title, which is slow and you can misclick
b) clicking on small album cover which is easier
And when album has only album art, it will display by default (big) and you will not see small album cover, which means that only one clickable item for track list is album title, which can be really small and it's cumbersome.
I suggest that you add "Track list" here: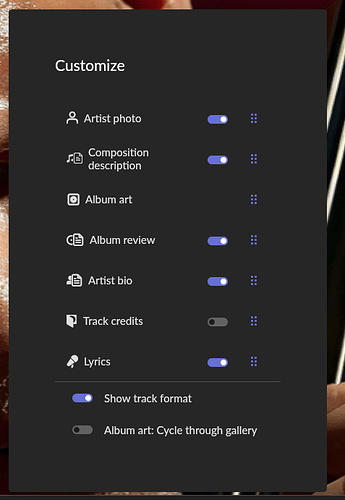 So we can put it where we want. That way we can put it BEFORE "album art" page and problem solved.
P.S. now I've checked again and Rockferry - Duffy is displayed properly. That means that it takes a really long time for it to be propaginated everywhere. It was obviously in the library straight away, but on now playing screen some cache or something prevents it to be displayed like that for some time. Can you fix it?