Anyone who thinks Jazz is dead or hasn't been good since the 60's and 70's, hasn't been listening. There are so many awesome musicians making fantastic music all over the world. When you get a chance look at Paolo Fresu's bio in Roon. He's all in.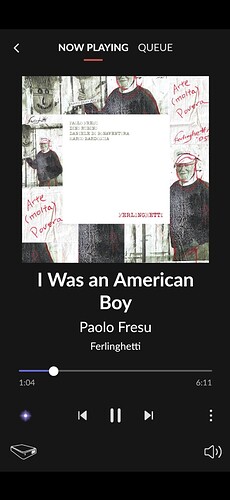 Cheers Vincent Yes I have listened to 6 Albums that he is on mainly thru the ACT Label. Know he has plenty of works out there but getting the time to listen to all the great stuff is the big issue.
Some great Jazz from Europe (particularly Scandi and Italy) and UK in the last 20-30 years. Labels that I check regularly are ACT, Gondwana (Matthew Halsall), ECM and Jazzland Recordings amongst others.
There have been some great recommendations from Threads on the Forum in the last 12 months as well. Feel free to keep them coming.
Cheers @Torben_Rick Saw your Emil Brandqvist recommendation and listened to a handful of his albums again.
Great listening.


Paulo Fresu is so talented that even Carla Bley felt the need to seek him out. Available on Tidal and Qobuz and well worth listening to.

Continuing with the Miles Davis Second Great Quintet this recording is from a concert in Tokyo on July 14, 1964 and really isn't quite the Second Great Quintet since this it features Sam Rivers (and not Wayne Shorter) on tenor saxophone. Before Rivers there was George Coleman. Once Shorter came on board the quintet really gelled and several landmark recordings soon followed, two of which I showcased in previous posts above.
This is a Japanese import, somewhat of an expensive rarity here in the states back in the day. Available these days on Tidal and Qobuz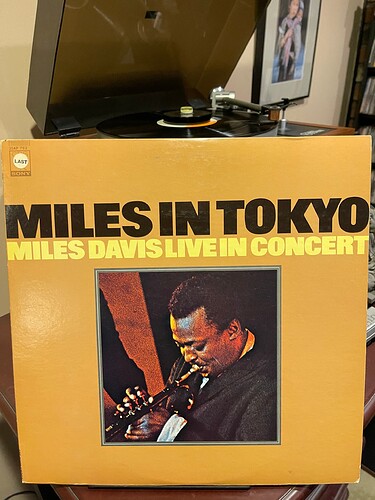 Please take note of the little LAST sticker in the upper left hand corner. Anyone remember LAST record preservative?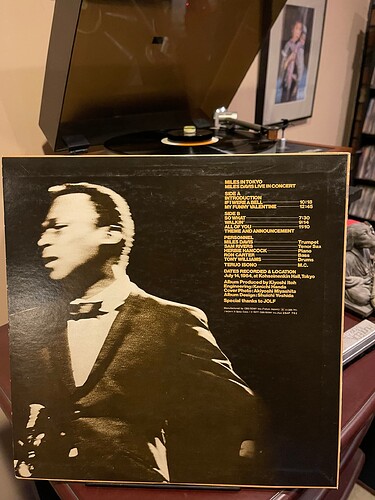 I don't know how to classify this recording. Jazz Electronica?
It has an amazing soundstage and the production is excellent. It's from David Chesky's new label The Audiophile Society.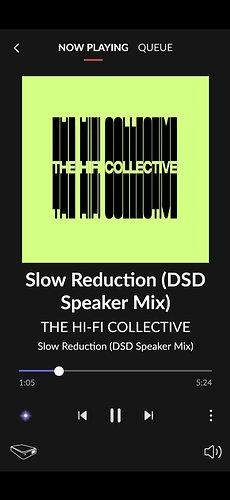 @Vincent_Kennedy - Did you buy it from here:
But what do "DSD Package" mean? 64,128 , ? Can't find any information about that.
Mary Christmas
Torben
EDIT: It is DSD 64
Here is the complete list of the Top 40 Jazz Releases of 2022 from Jazz Times
Soundstage is indeed amazing! Thanks for recommending.
Here is another great album of Christmas music in the jazz vein. Available on Tidal and Qobuz. Truly one of the best Christmas albums.

It is a little vague. I found this on their site:
"We offer both a Hi-Res PCM and DSD package. Some people like the sound of DSD and some prefer PCM, so we let you have both to compare. We also include a special headphone mix, as most albums are always mixed on speakers and the consumer just plays them on headphones. Our objective is to make a separate headphone mix, to try and make it as spacious and externalized as we can. The idea is to get the sound out of your head. Please keep in mind that like your fingerprints everyone has a different ear pinna. With some people it is harder to externalize headphone sources, and some people have no problem with it."
"All Audiophile Society downloads come in a choice of two audio packages: The Hi-Res PCM Package (which includes a 192/24 speaker mix, a 96/24 headphone mix, & a DSD speaker mix) or The DSD & 48/24 Package (which includes a DSD speaker mix, a DSD headphone mix, a 48/24 speaker mix, and a 48/24 headphone mix), all in Mega-Dimensional Sound™."
Thanks for your tip

Bought it today

Great sound

Torben
I purchased last night after listening to the Qobuz version which was supposedly 48/24. Sounded good but confirmed on Audirvāna that is was MP3 320kbps quality… However the DSD 64 Speaker Mix and Headphone Mix were both superb on the Studio Monitors and Hifiman Arya.
The downloaded PCM Albums still came up as Lossy 320kbps.
However a great recommmdation @Vincent_Kennedy Also enjoyed both other albums you posted. Cheers
I wonder if Audirvana sees everything that was converted from DSD to PCM as an MP3. I really doubt that Chesky would try to sell MP3s as high resolution PCM.