Roon Core Machine
NUC7i3BNH
Serial #94C691A8630F
Version 1.0 (build 227) stable
Roon Server Software Version 1.8 (build 1126) production1x
98% of 55 GB available.
Networking Gear & Setup Details
TP-Link AC3200 Archer router
Devolo magic 2 wireline adaptors
Synology NAS
Connected Audio Devices
RME DAC connected to an iMac
Naim Mu-So 2nd gen
Mola Mola Makua DAC/Preamp
Number of Tracks in Library
7,400 tracks
Description of Issue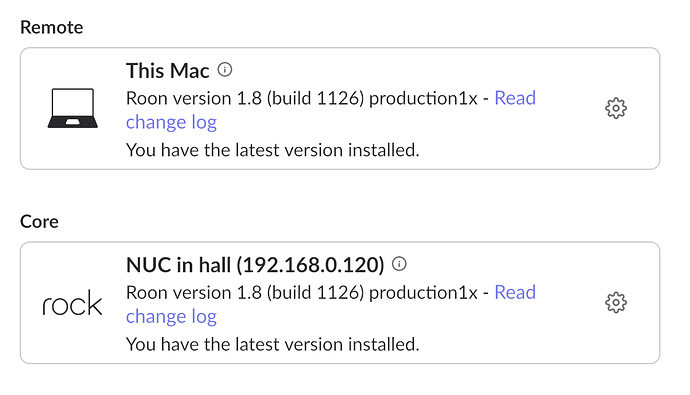 This is the chain of events as I remember things…
Roon offers to upgrade itself. It often does this. When I start roon from my iMac it offered to upgrade to 2,0. I say yes. It upgrades the NUC core and my iMac, phone and iPad.
It all works.
I try to install ARC on my phone. But hit a problem. My network is a bit complicated, so the auto port settings do not work. I have a router feeding a router so figure that might be the problem.
Am in no big rush to sort this out. So wait until I have a little time to focus. Then it appears to me that Roon downgrades itself to 1,8. I did not ask for this. The iMac software stays at 2,0 so ceases to be able to talk to the core. Upgrade button ceases to work. So I am stuck suddenly without roon.
After a bit of reading of help desks, I delete the roon remote off the iMac and reinstall 1,8 from roon. This gets roon working again and I can go back to listening to music via all my devices.
See screenshot of where I have ended up.
But I have Roon 1.8 and I want to try Roon 2. There is now no option to upgrade. I think I have cleaned up my network and want to try again with ARC.
How do I get roon to update? It says I have the most recent version.