Bought an Nucleus from an local dealer back in Dec 20 and been using it for streaming to my Meridian 861v8 (Surround Processor) ID41 card mainly. Been playing tracks in Stereo/Trifield and DTS without any glitches. Also, the Nucleus HDMI output is connected to an Meridian HD621 for playing multichannel tracks to the 861v8 via the MMHR cable/bus. Most multichannel tracks are in DSF file format and ripped from my original SACD's. The Meridian HD621 can't handle DSD format, so the Nucleus is converting it from DSD to PCM.
Here are some pictures of the Nucleus HDMI settings: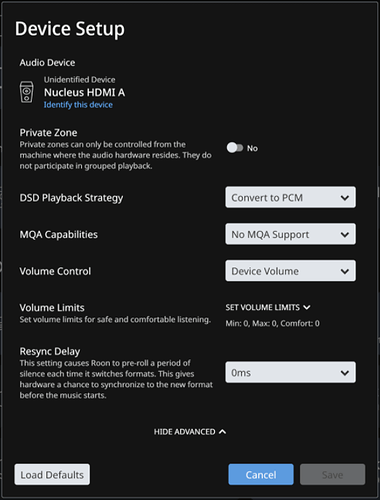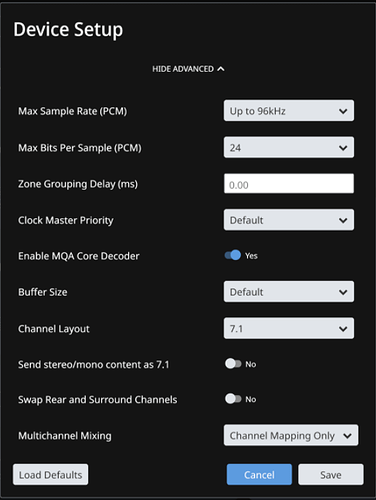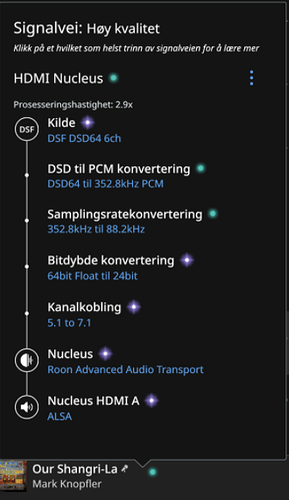 The way the Nucleus is processing the DSD file multichannel playback at the moment is long away from perfect. Sometimes, the channel output is really strange no Center sound, vocals at Rear speakers suddenly and the whole "sound-image" is sounding really wrong. When skipping to next song, it may sounds correct again. This happen randomly in all kind of albums at the moment, but today it's wrong on any track I try to play via HDMI output.
To locate where the problem is, I've been using my Pioneer UDP-LX500 that is also connected to the HD621 to play SACD's in multichannel. From the first SACD and track I tested, I could hear that the "sound-image" was correct, less louder and a touch of a bit warmer sound.
I've been testing the Nucleus and Pioneer for 2 days now and playing multichannel music on Nucleus is no way for me at the moment. Streaming DTS music playback from Nucleus to ID41 still sound amazing, so I'm now asking how good is the Nucleus really for handling DSD playback?
I've been reading that the best way to play might be to use a secondary Roon product/Endpoint.
I can see why, since converting 6CH DSD to PCM is demanding for Nucleus. But, the main reason for I bought the Nucleus was to have a "system out of a box" and no playback or sound image issue.
I'm wondering to try an NUCv7 from a friend with ROCK and use as Endpoint to the HD621 for DSD multichannel playback. Will then the NUC Endpoint do the DSD to PCM converting or still the Nucleus?
I see that Exasound also have some products for playing DSD multichannel, but at a extra cost offcourse.