I'm afraid Nucleus still showing inializing on my iPad even after a reboot and reinstall of app
Yes I did and it shows it's been running for the past 6 minutes or so
Thanks, @Jeremy_Sherman.
Are other remotes showing this same error?
Can you give some details on your network setup?
I only have the iPad remote .
The Nucleus , NAS and Uniti Star are all wired to a SKY Hub and everything was working beautifully !
Thanks for the update, @Jeremy_Sherman.
Can you share a screenshot of the error you're seeing and a screenshot of the Web UI as well?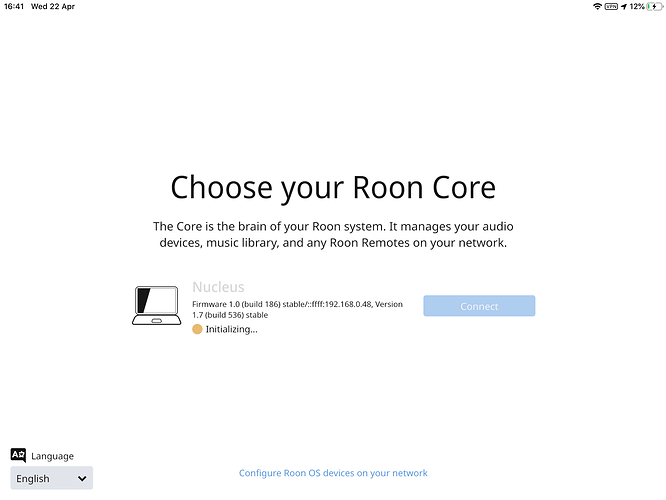 Sorry not sure what you mean by Web UI .
Curiously my wireless Mac on which Roon is also installed ,but not used as the core , is now showing up on my iPhone as initializing
I can't find smb://Nucleus/Data on my Mac …sorry to
be a nuisance …get to my age and this is all a mystery !
No worries, @Jeremy_Sherman — I'm going to enable diagnostics on our end and see if we can track down the issue that way. I'll be sure to reach out as soon as the team has reviewed the diagnostics report.
Thanks Dylan …have to say I really like what Roon brings to digital music collections and systems
Regards
Jeremy
Hi @Jeremy_Sherman,
From the Web UI, can you try selecting the Reinstall button under Operating System? This doesn't affect the database, but it should reset the OS and we believe that will help here. Please let us know!
No difference I'm afraid …still stuck on initialising .
My Mac has now appeared on the app as an alternative core and ready to connect but the Nucleus remains stuck
Hi Dylan …in a fit of pique yesterday I reset the database and it started working …just means I had to redo all the edits I'd made …still I have a lot of time in the current circumstances ! Just updated to build 537 and went through fine , all up and running . Thanks for your help