That seems to me to be a reasonable conjecture. The next step, were I a member of the Support team, would be to collect the logs from your Nucleus for analysis.
With 250,000 users of Roon, there are presumably thousands of Nucleus or ROCK/NUC systems out in the field that do not show this issue of the Roon Server resetting itself (I've never seen it on my ROCK/NUC). So the question is what is causing this on a minority of systems such as yours?
Yes, that's the Question. What can i do now?
Wait for Support to take up the issue (e.g. if they need to collect more data), as I said to @arthur0603 above.
OK thank you. Could the IP Number on my screenshot be a safety problem? Shell i remove it?
The IP address is not - because it's an address in your internal home network, not a public address. However, you might want to blank out the serial number of your Nucleus. Probably good practice to do this.
Hey @augery58,
We'd love to take a closer look at what might be happening in your specific case. Would you please use this as a guide to share more information about your setup?
Hi Rebeka
Nucleus Version 1.0
iPad Pro 2 Generation_ 14.4.2
Internet: Certfield technicolor Model: TC7230
google wifi with 3 pieces in the house
Nucleus connectet with ethernet to google wifi
System:
Nucleus _ USB Chord_ connectet to Accuphase E 460_DAC 40
Fish Audio Power Bar. Nucleus power chord connectet on Digital Filter plug in
The Nucleus loosing the connection only with hires qobuz files.
last time it happend this night: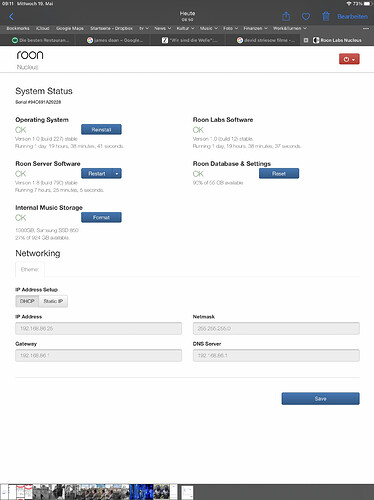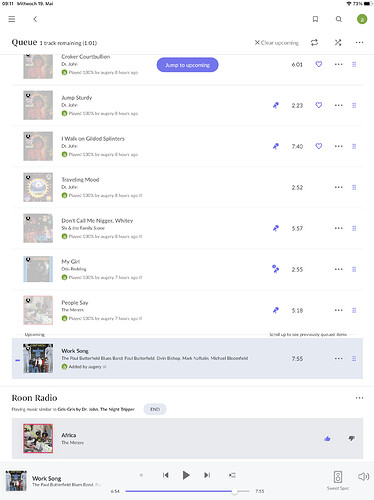 thanks for youre help
@beka Hi. any news. It happens every day and it s very frustrating. I investet lots of money to get a simple reliable system. So please find a way to make me happy again with roon.
It's really weird, but I've not had a reset for days! I've been running in a new DAC so I've been leaving Roon playing for days and through the night… typical. All I can think is I reinstalled ROCK from a new USB stick and fresh download the other week, but even so a few days later it did reset. Mystery? It always used to happen late at night here in the UK, Roon did say it might be related to a metadata update?
And how this metadata update can be made, Tim?
It's a Roon background task, it's the software updating your library with new metadata for albums and tracks you have, so maybe composers, other artist credits and links and so on. Nothing we can do and apparently it can't be switched off, although I hear that if you have edited the album say to add your own metadata then it won't be updated.
I don't know if you can download and install a new Nucleus ROCK, I think it is a closed system? There is a 'Reinstall' button on the OS but my USB update everything, OS and ROCK from scratch… as you have a Nucleus did you buy it from a dealer, maybe you can get it exchanged under warranty just in case the hardware has a problem?
Yes, i thought about it, to return the nucleus to my dealer. The waranty expired one month ago…
You think, the roon support team is not working on this?