My first post so I hope I am doing this right!
I have read all the online documentation and many, many forum posts but have not been able to find an answer to my question. So I am hoping that someone or @Support can help?
I have been using Roon for about 18 months now with the Roon Core on a Mac Mini and my music files on a Direct Attached Storage Raid Box attached to the mini. I use an iMac and iPad for remotes.
I have now invested in a Nucleus+ with a 2TB SSD. However, there was a delay in getting the SSD. So following the online documentation I have moved the Roon Core to the Nucleus+ and my music files to an external USD drive attached to the Nucleus+.
The SSD has now been installed and I have made backups to various places. I have copied the music files, in exactly the same folder structure, to the internal SSD.
However, when I restore the backup and then try to edit the storage path from the external USB drive to the internal SSD I am unable to see the "Nucleus+ Internal Storage" folder to select it. See the screen shot.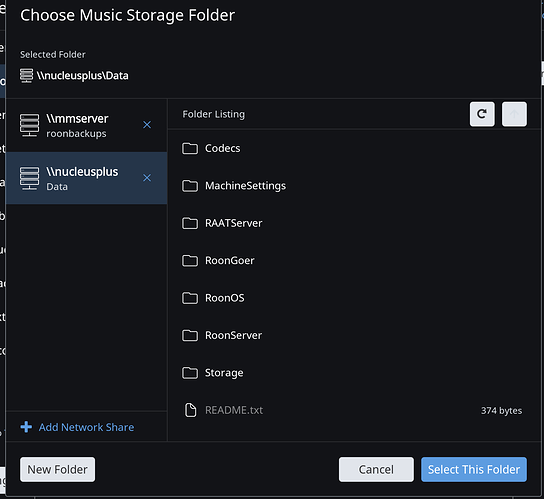 The only way I have been able to get the files onto the internal SSD is by adding a network path to the "Nucleus+ Internal Storage" folder. Once this is done, and if you look at the storage screen the "Nucleus+ Internal Storage" folder then shows as disabled.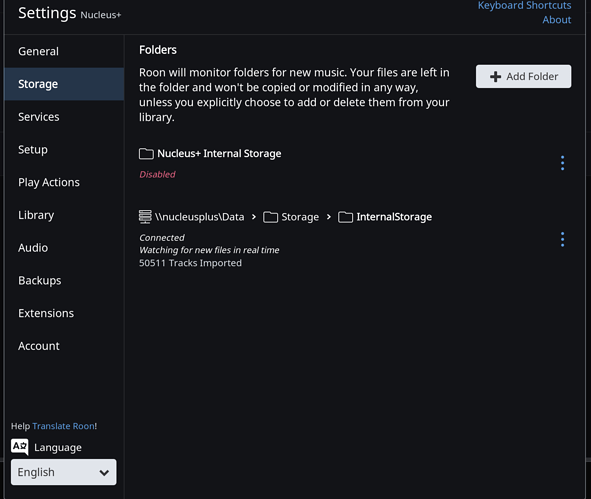 So, with apologies for the long post, my question is, is this the expected behaviour? Does it have any implications in terms of performance or possible problems if the SSD has to be changed in the future?
Many thanks for your help.
David