Core: Nucleus+ with internal 1TB SSD (migrated from Lenovo ThinkPad Yoga 460)
Network: ethernet, Nucleus+ connected to Netgear GS108 switch
Audio devices: Lenovo ThinkPad, 2 x Sonos Connect, 2 x Sonos Play 3, Sonos Play 5, Bryston BDP3
Here is screenshot of storage page :


Copied music files from external hard drive connected to Lenovo to Nucleus+; Roon sees them fine and can play them. Recently added a subdirectory to Nucleus+ internal SSD & copied new music files there from thumb drive connected to Lenovo. Roon & Nucleus+ can not find them. They don't appear on skipped files in Library.
I did not delete original Roon Core Software from Leovo ThinkPad, and use it now as a remote control
Can you advise why the added music files don't appear in my list of albums?
I just noticed that on the Choose Music Storage Folder screen, the selected folder is the folder used for my scheduled back-ups, not the internal storage folder where the music is stored. Here is a screen shot: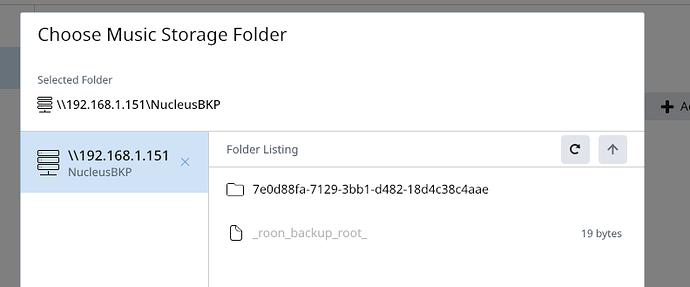 Should the 'Choose Music Storage Folder' be set to the internal storage folder on the Nucleus+. If so, how to I make this change? I'm not a computer technician. Can I use 'New Folder' under '+Add Folder" option on the Settings | Storage page and type in the web address of the SSD internal to the Nucleus+?