Just got my Nucleus+. Set it up, migrated my library to it, and I get no audio from the DAC, even though the Core recognizes the DAC.
Here's my setup:
Control: Roon Version 1.4 (build 300) on MacBook Pro (Mac OS 10.12.6) and/or iPad (iOS 11.2.5) running version 1.4 (build 298)
Core: Nucleus+ Roon Version 1.4 (build 300), Roon Labs Software Version 1.0 (build 4), Roon OS Version 1.0 (build 155)
Synology DS1512+ NAS with 8TB of Synology Hybrid RAID (1 disk fault tolerance)
Audio Research Reference CD9, using USB connection to Nucleus
After running through the audio setup panels, the Roon recognizes the DAC as being connected to the Core, as the following screen cap shows:

The Core has the library, can access the files, and the interface says audio is playing with a lossless signal path to the DAC via ALSA, as the following screen cap shows: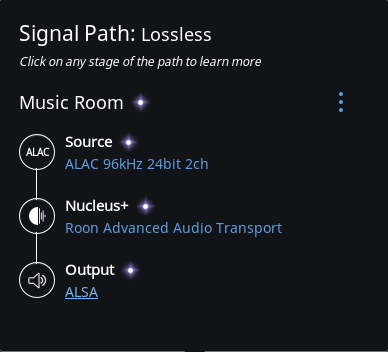 But there is no audio output from the DAC. It's as if the payer were muted. I have tried multiple different settings (Fixed Volume vs. Use Device Controls, etc.) to no avail.
This setup was working fine with a Mac Mini running the latest build of the Core. All I have replaced is the MacMini running Core with the Nucleus+. I tested the CD9 player via USB (using a different media player) and with a physical CD. It's working fine.
Any help is appreciated.