The release notes says support for usb drives. Tell me it aint so?
From the KB …
Hardware Support

Many Roon OS devices do not have built-in CD drives, so you can attach an optional USB CD drive to the device. This also gives you the option to try different CD drives for better extraction results. If you have a device with a free SATA port, you can also use SATA CD drives.
It is and works! Ripped my first few tonight. Shame you have to add you own tags but Roon recognised them without. Its fairley basic but does the job and saves having multiple devices.
Apparently.
Any suggestions for a decnt USB drive to connect to a Nucleus? Preferably USB powered os is that not possible?
So you can rip from within Roon or the Nucleus webpage? Anyone that can post a screenshot?
Webpage. Pretty much any USB CD drive that will work on linux is likely to work you dont need power Nucleus will power it via USB. Mines a £20 LiteOn which is from Amazon instantly worked.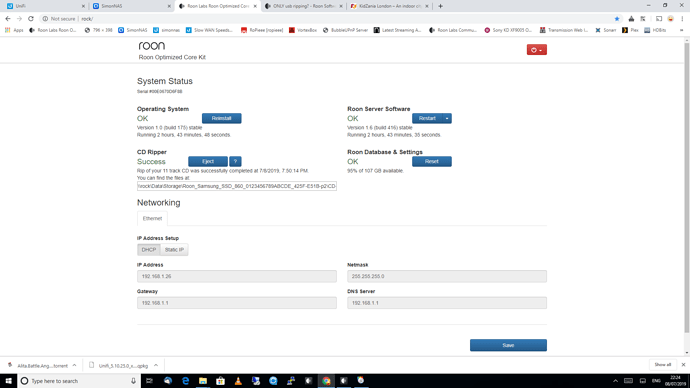 Here's the KB on it.
https://kb.roonlabs.com/Roon_OS_CDROM
This is a function of Roon OS (ROCK). You can already rip music from within the Windows, Mac and I presume Linux environments.
This feature is only available with Roon OS, the self-contained OS for Roon, and isn't part of Roon or Roon Server executables.
Roon OS is a headless operating system that has had no way to rip CD until now. Other OS's have had various other more feature complete ways to rip CDs. This feature is unrelated to Roon the music library and playback software.
You can rip CD's with a computer?

CrystalGypsy, thanks a lot for all the info and the screenshot, exactly what I wanted to know!
I like some more control over my ripping though and think I'll keep ripping with XLD and adding metadata via iTunes or replace iTunes with SongKong + Jaikoz.
Although that unused second USB port is working on my nerves, wouldn't hurt to plug in a little USB drive just to try.

I really appreciate Roon introducing this as a native ROCK functionality. But with most newly introduced features it requires fine tuning. I am very anal when it comes to file naming, in file meta data tagging and accuraterip database checking. All these features are not included (seems to me like they are easy to integrate) so therefore I will still continu using my Mac with XLD for the ripping part.
Nonetheless, great update. It will need more features before I will start using it though.
Wait, so Roon just added cd ripping that doesn't add embedded metadata? 1995 anyone? This will go well with the delete-only function.
They may have been embarrassed with the metadata's quality.