@spockfish My OSMC Remote Controller not working.
I've enabled the extension in Roon
Feedback 2286b543b983b08c
@spockfish I have been trying the steps suggested in this post to get an OSMC Remote to work with RopieeeXL, and so far haven't had success.
-The remote control has the exact same spelling of the correct Roon zone in the Ropieee setup screen.
-The remote control extension is enabled and running in Roon.
-The remote control has a fresh battery and is paired with the USB dongle (I tried connecting it to my laptop to ensure it worked and was responsive).
-I have tried reflashing the Raspberry Pi using both Ropiee and RopieeXL and while it shows up with the Roon extension and correct info on the Ropiee setup page, it still is unresponsive.
Would you be able to help? The software otherwise has run exceptionally well and I am so happy it exists. Thank you.
Probably best to submit feedback from your RoPieeeXL system and leave the feedback ID here, if you haven't already.
Thanks. I wasn't sure what the protocol was. My feedback ID is: 942738e6d6e99099
I found that I couldn't make the OSMC remote work without a 7" display also attached…Odd but I did mention it at the time…but moved the OSMC to a different system so forgot about the issue. @spockfish Harry maybe something to check with some display code dependancy?
Hi Jack,
Thanks for the feedback. The OSMC controller has been detected, but I see an error message while setting up the configuration so that explains why it is not working.
I need to look into this more closely. That will take time though, so unfortunately you can not use it for now.
Thanks
Thank you! No rush whatsoever. RopieeeXL already does so much that the remote functionality is just icing on a pretty damn awesome cake.
Thanks again!
Hey @spockfish, just a heads up that the problem has sorted itself out. I bit the bullet and finally invested in building a ROCK (my Roon Core previously resided on my Mac's HD), and once I migrated over to the NUC/ROCK, the OSMC Remote and all its functionally started working normally.
Hi,
I installed the OSMC dongle for the remote control on an RPI 4.
No problem for the detection under Ropieee, and I paid attention to the name of the zone on Roon.
On the other hand, when I am under Roon: Extensions, there is nothing. I don't see any extensions.
See screenshots.
Do I have to do something special to see this remote extension under Roon?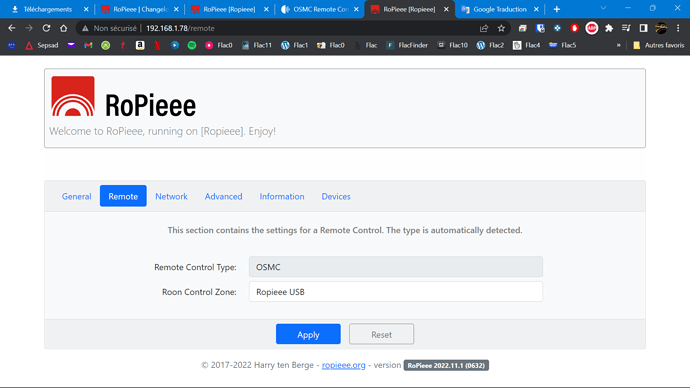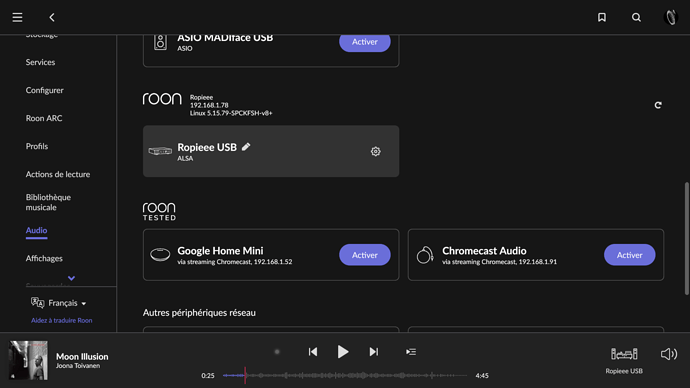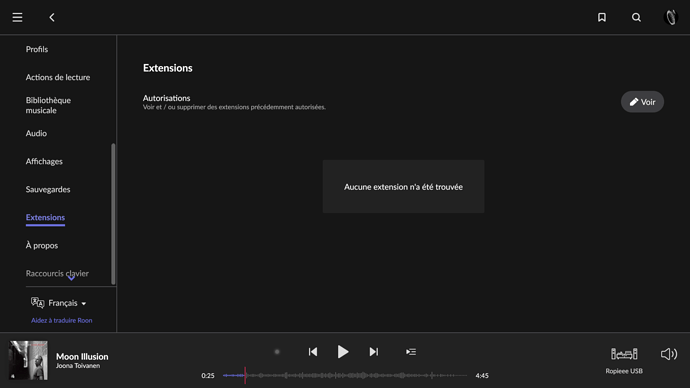 Send Feeback logs : 32cdf97e13dacd81
Although the remote controller is detected, it has not been configured.
Did you by any chance set the zone name before you plugged in the OSMC?
Anyways, you need to trigger a configure step. The easiest way is by changing a setting. Toggle something or change something that's not that important. And you can always change it back.
So:
change a setting (doesn't matter which one)
save and configure
reboot
Then the extension will show up.
Thanks
Thank you very much, everything is ok now.


Small additional question, which choice of volume in Roon is the best between "DSP" and "peripheral device" to manage the volume with the OSMC remote control?
Should the "force volume" option in Ropieee be checked or not?
Thank you again for your support.
At first sight, I would tend to say that the best choice would be "peripheral device", because it keeps the bit perfect on the signal path (purple logo) and the volume control does not appear on the path.
With DSP volume, the logo turns green because the DSP volume control appears on the path.
Now I may be wrong…
Hi,
no response on the subject…
That's unrelated to OSMC. Just use the volume control that fits your needs.
General rule of thumb: hardware volume control is better than software volume control (DSP).
Again unrelated to OSMC.
First of all: this option is USB-only and disabled by default. It only makes sense in the (rare) situation that your DAC has volume control over USB and does not follow volume settings on reboot.
Hi @spockfish,
I'm seeing strange behavior with my OSMC remote on a PI3B+. It had been working flawlessly for a few years but recently started (and I don't know exactly when) it has started disappearing for periods, then apparently randomly returning. Restarting the Pi doesn't help, nor does restarting the core. When 'disappeared' it is visible in the pi's web UI, but roon will show 'No extensions discovered' (I have no other extensions). Looking in Authorizations the extension is seen with a message that says 'last seen: at '. The pi is on Wi-Fi with a strong signal and can play music at 192/24 without any issues. Feedback sent 5f2853c94050f95e.
Thanks, Pat.