Hello Roon Community & Team,
I'm running Roon Server on Windows 10 , Remote on iPhone and iPad , as RoonBridge a microRendu and a freshly installed Mac Mini running OS X Sierra.
My Problem so far, the OS X Version is shown as 1.0 Build 62
As said OS X is a fresh install it hasn't seen Roon before 1.3 came out. I've downloaded the dmg file for roonbridge from the download page.
I came across the problem that it is an old version as I wasn't able to see dsp features .
I've tried a second Mac which I normally don't use for audio due to it's usb-c port only and ran into the same problem.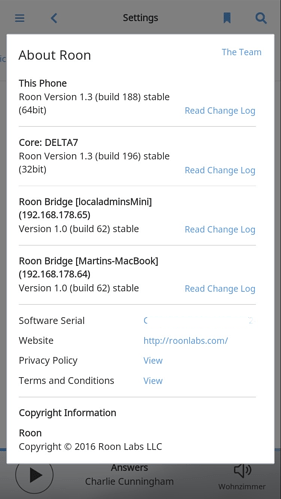 The update screen appeared on my remote device and triggered the server build from 188 to 196 but it didn't update the OS X version.