Does Roon have an option to add a song as play next in the queue?
Yes and many many more options to explore!
Suggest Roon trial for 1 month. To experience completely new way of listening to music.
Suggest keep the hardware simple including database on HDD connected to your computer. NAS is also okay but during beginning mode, it's good to keep it simple than waste time in debug!
Hi Edward,
You can't beat having a trial as suggested and checking Roon out for yourself … you might also like to check the Roon Knowledge Base which is a good source of information for new and experienced users alike.
Good question… I'm missing this feature too or simply cannot find it. When playing radio or an album, using the 3 dots does not allow me to add separate songs to the queue… ???
If you hit the small drop down beside the Play button you'll see additional options. In Settings you can customize what the default action is when hitting the larger portion of that button.
Is that what you mean?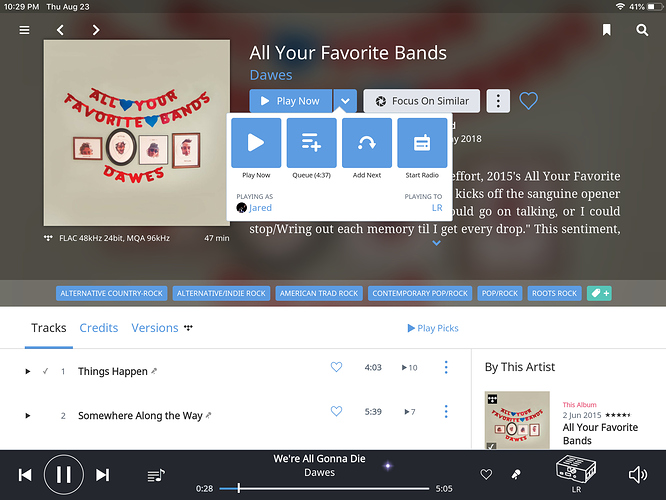 A long press/right-click on a track will bring up the same menu at the top of the screen. You can select multiple tracks with this method.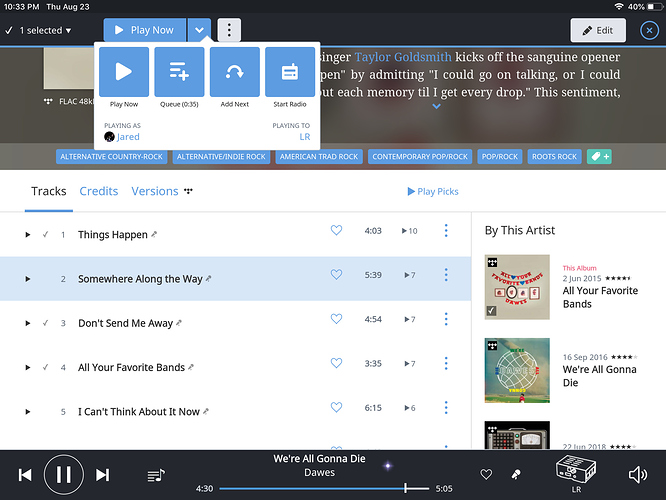 Hahahaha… thx! Yes, thats it. We are so used to SONOS where clicking the song means playing it vs having extra options. Great … back on track.