Recently (and the most recent significant change here is just the Roon update to v276), I've gotten infuriatingly many of those "Roon: An audio file is loading slowly" messages.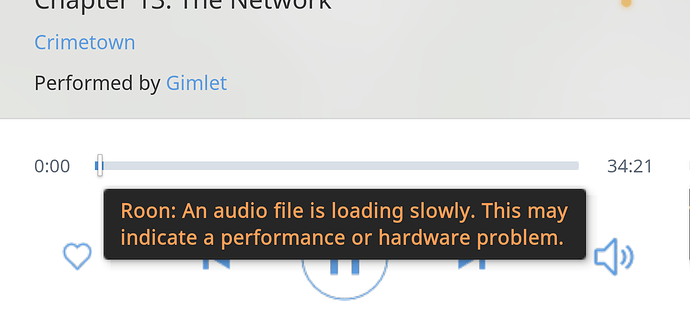 I can't prove cause, but they hadn't been happening until recently (also recent: the move to Roon v276).
I've also noticed that they seem more common when multiple zones are synchronized, and seem easy to trigger if I click around in the timeline for MP3 files like podcasts, especially if I try to jump back a bit…
…but I've recently also had it occur just when a new track at a different (especially high) sample rate comes up in a queue and Roon is trying to get multiple zones synchronized. I've heard a couple of zones start playing, then the whole thing fails and Roon skips to the next track.
Especially infuriating: Roon seems to think it's being clever by removing the affected track from the queue history, so hitting the Previous button to try to get Roon to try again backs up into a neverland rather than going back to the damned track I want to force it to try again. Generally if tried again, these tracks will eventually work fine (although I generally won't get more than one try at a timeline skip before the track is abandoned again - so I have to guess correctly about where the podcast needs to be resumed or I'll have to reload the track for another try).
Generally if I stop RoonServer and restart, playback works fine right after - but I don't know if that's a coincidence or a useful observation. Could there be a memory leak in RoonServer? Could you have reduced the time allowed for zone synchronization to complete, thereby causing early timeouts which wouldn't have happened had the software been more patient?
This is with a hardwired gigabit network to zones, and music storage local to the Linux RoonServer machine.
Lemme know if there's anything I should be looking for in the logs to pass you.