Core Machine (Operating system/System info/Roon build number)
My current roon core is a diy NAS.
Ryzen 3200G
DDR4 2666 8G x2 RAM
Kingston A2000 500GB nvme SSD(for roon application)
Seagate Ironwolf 14TB x2 Raid 1(for music files)
Network Details (Including networking gear model/manufacturer and if on WiFi/Ethernet)
CAT6 cables -Netgear GS308E-Raspberry Pi4 with Ropieee-USB DAC
Audio Devices (Specify what device you're using and its connection type - USB/HDMI/etc.)
SMSL SU-8 USB dac
Description Of Issue
After upsampling to DSD512,
It seems taking about 4~5 seconds to start playing music after I click the play button, when I change to lower settings like DSD256/128 or PCM, the waiting time become smaller.
The whole playback in DSD512 is perfect and smooth, just this little annoying issue.
I have a 2x~2.1x speed while playing in DSD512, cpu load about 30%.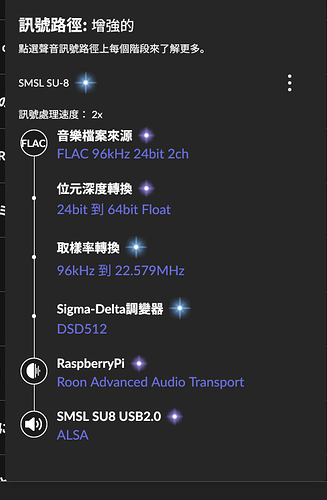 Is this normal or an hardware issue that I can improve it? thanks!