Roon Core Machine
2014 Mac Mini, 8 GB RAM, macOS 10.13.6 High Sierra, Roon Core 1.8
Networking Gear & Setup Details
Mac mini has static IP and directly connect to a LAN port on my Peplink Balance 30 router. Ethernet set to 1000BaseT.
Connected Audio Devices
DAC is Roon Ready. Cambridge Audio CXN v2 using latest firmware (Dec 9 2022)
Number of Tracks in Library
10,636 tracks
Two storage library locations, an exclusive for music 1Tb internal SSD, and a secondary folder on a 20Tb USB 3.1 Akitio Raid.
Description of Issue
My music library is maintained to be portable. DSD and FLAC files have artwork and Metadata embedded into each file. Playlists are exported and saved as .m3u with relative paths set. This allows my music library to work on a second server for my cottage AND on a 1TB USB stick (which I use to test equipment at brink and motor shops.)
Roon scans and adds new music files and playlists as I add/edit playlists, but once a playlist references a song on the secondary file storage location, Roon excludes the song(s) in the playlist. This is a huge error with Roon functionality in my book. When you can't get basic playlist import / export functionality in a high end music player, it's a pass for me.
You may not care about fixing this issue, or even adding portable playlist export that works, but until you do Roon will be a pass for me. I really want to get a lifetime subscription to Roon, but with playlist IMPORT and EXPORT so absurd and broken in v1.8 I just can't do it. I cannot update to Roon 2.0 as my Mac also runs OSX server and I would lose my MySQL websites if I upgraded to Catalina. PLEASE fix this for Roon 1.8 and Roon 2.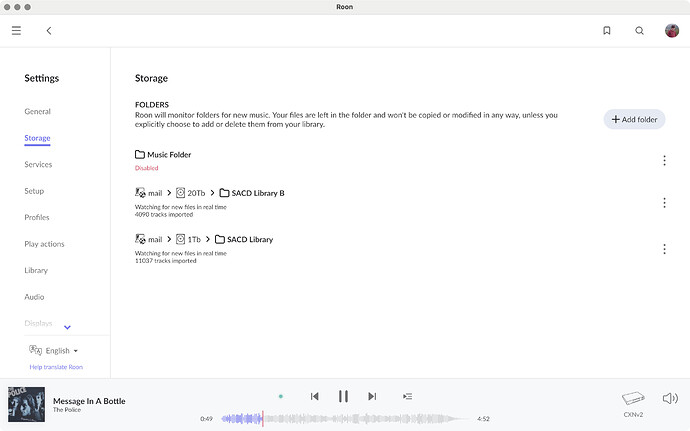 example:
#EXTINF:220,Let's Go
…/…/…/20Tb/SACD Library B/FLAC/The Cars/Greatest Hits (24-96)/08 - Let's Go.flac
#EXTINF:279,Escape (The Pina Colada Song)
…/FLAC/Rupert Holmes/Best One [20bit]/01 - Escape (The Pina Colada Song).flac
Anything in the playlist referencing second storage location does not play in Roon. (i.e. …/…/…/20Tb/SACD Library B/)