I was looking for some tunes this morning and noticed this. Maybe someone can explain this to me.
I searched for "Think of One," an early Monk tune (also the name of Wynton's first album). I started on Tidal and got 10 "track" results: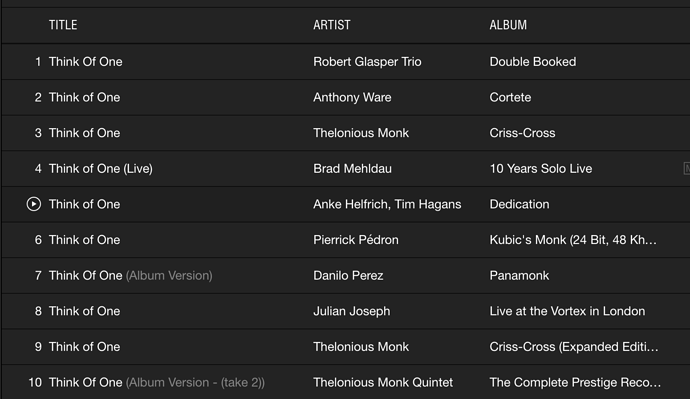 Doing the same search in Roon, then clicking on "Tidal Tracks", gives me 34 results, many of which just have random words in common from all fields: "The Coming of the One" by "Think Pink" from the album "Twink", for example. (Q. 1: How do I limit to exact matches? Putting the phrase in quotes doesn't help. Q. 2: What order are these in? It isn't obvious. Can I reorder so that exact matches are all at the top of the list?) If I look at the exact title matches, I count 11 in Roon (as opposed to Tidal's 10). The results are quite different–for example, in Roon there's a track "Think of One" by Kris Gears from an album of the same title; Tidal doesn't include that one. There are several other examples of tracks Tidal lists but not Roon, or that Roon lists but not Tidal–even though I am now looking at Tidl tracks. In particular, Roon lists NO (Track) versions with Thelonious Monk, who wrote the tune. (There is however a "composition" credited to Monk, but the link goes to the track by Wynton Marsalis, from the album of the same name.
Can someone help me make sense of this?
Thanks.