In case anyone comes looking, I am aware that Radio Bob! is not working. Stream hangs on their site too.
Hello,I enjoy the classic radio Classic NL; but the last two days I cannot play it, any problems? Thanks
That stream is geographically limited. It's not available in the UK, but is in the US and NL.
When I connect from there there is no problem. I don't know if your location is restricted or not.
That site does offer three other streams which seem to be unrestricted:
Mind, Soundtracks and Opera
Would you like these?
EDIT I added them anyway.
The three new streams Mind,Soundtracks and Opera are working fine.I'm from Istanbul,Turkey and until two days ago, I was enjoying Classic NL and I had no restriction from here. Maybe it's temporary,I will check it time to time.Thank you.
Hi @BrianW
Very strange behaviour in Roon radio … the two stations you previously helped me with have completely disappeared along with a few more. For example:
Adore Jazz Radio (previously working without issue)
https://tunein.com/radio/1FM---Adore-Jazz-Radio-s74986/
Trying to access it in 'MyLiveRadio':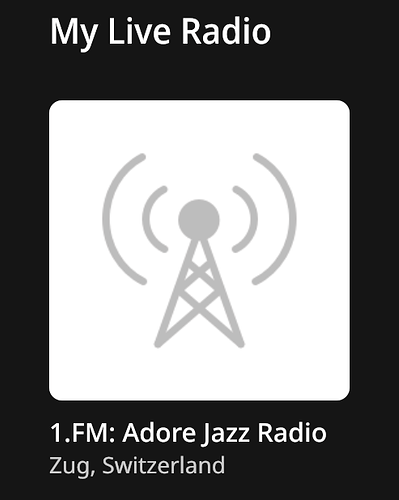 Same goes for these stations:
2) Offradio (https://tunein.com/radio/OFFradio-s103078/)
3) DeepVibes Radio (https://tunein.com/radio/Deep-Vibes-Radio-s92220/)
4) Pepper (https://tunein.com/radio/Pepper-966-s107399/)
and quite a few others.
I can play these stations through the tune in links without issue. If I try to add them again manually in Roon, I get the 'Playback was interrupted because track failed to load' message.
They were all working fine but now show as above. Any ideas why this happened?
Cheers
Yiannis
It's all because of the Google cloud problem. I'm afraid it's out of Roon's hands and we will have to wait on Google.
Thank you @BrianW, things are back to normal now it seems

Core Machine (Operating system/System info/Roon build number)
Verison 1 Build 219
Network Details (Including networking gear model/manufacturer and if on WiFi/Ethernet)
TEXT GOES HERE
Audio Devices (Specify what device you're using and its connection type - USB/HDMI/etc.)
Naim NDX2, Chord Hugo
Description Of Issue
I am unable to play the live radion station News 938 in Singapore since last month. It was working well previously. Other radio stations are working fine.
Please see the attached screenshot.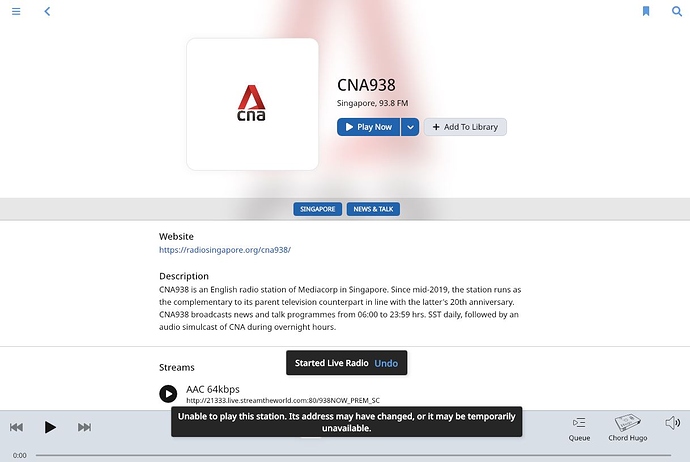 Hello @Eng-Joo_Gay. The original stream does seem to have problems. I have added a couple of new streams.
These new steams are of lower quality unfortunately but they are what the website is using.
Can you play the station now?
OK. the new stream is working properly now. Thank you!
Coming back to the Europa Jazz issue, the following link will play via LMS (logitech media server), but does not play in Roon. it's an https stream; will Roon play secure streams?
Yep. And VLC will play it too. But Roon won't. I don't know why but I have told Roon.
All I can do is remind them again. Sorry.
Venice Classic Radio has not been working via Roon for the past few weeks. The station's URL player does work at https://www.veniceclassicradio.eu, as does the station on TuneIn.
I have tried to add this station manually using the TuneIn link but it still does not play…

Any help is appreciated.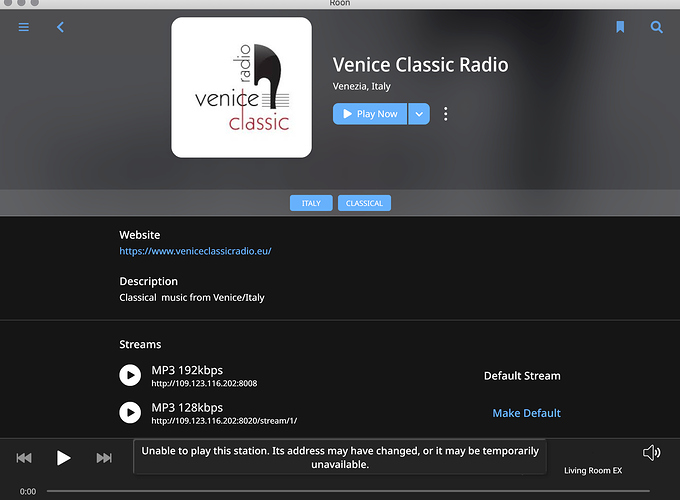 Content of the official m3u file:
#EXTM3U
#EXTINF:-1,Venice Classic Radio Italia * European Server
https://uk2.streamingpulse.com/ssl/vcr1
#EXTINF:-1,Venice Classic Radio Italia * USA Server
http://174.36.206.197:8000/stream

I've seen other users reporting problems opening streams from HTTPS links. Does the second stream URL given (http://174.36.206.197:8000/stream) work for you?
An interesting wrinkle - using the .m3u file works but Roon doesn't display metadata. Using the streams directly gets metadata. Hence for now I've gone with the 2 streams rather than the .m3u.
I'll have to check if this phenomenon occurs elsewhere…
Thanks @BrianW and @BlackJack! Both of the updated streams are working at my end. Cheers folks!
This topic was automatically closed 36 hours after the last reply. New replies are no longer allowed.