Thank you @Kristof_Rutten, I've changed the URL as you suggested.
I've also changed the station name to Nostalgie Vlaanderen while I was there.
Hello @BrianW,
I was hoping to get your help with a radio station: Nostalgie: Saturday Night. The original link is here:
The stream URL that adds it in Roon is this one:
http://opml.radiotime.com/Tune.ashx?id=s241791&formats=mp3,aac
However, whenever I try to play (or our users), the following error presents itself: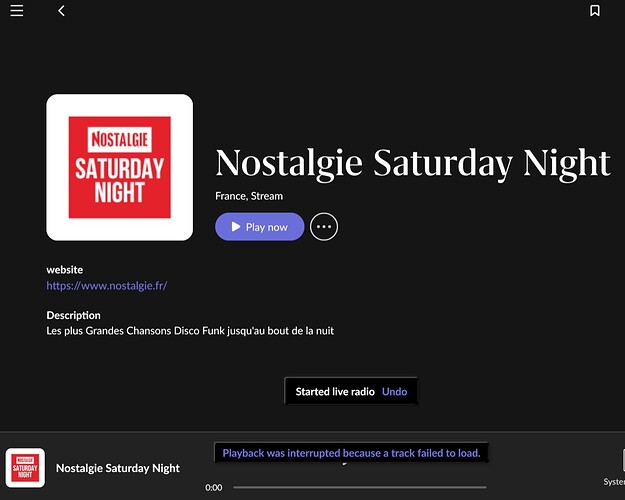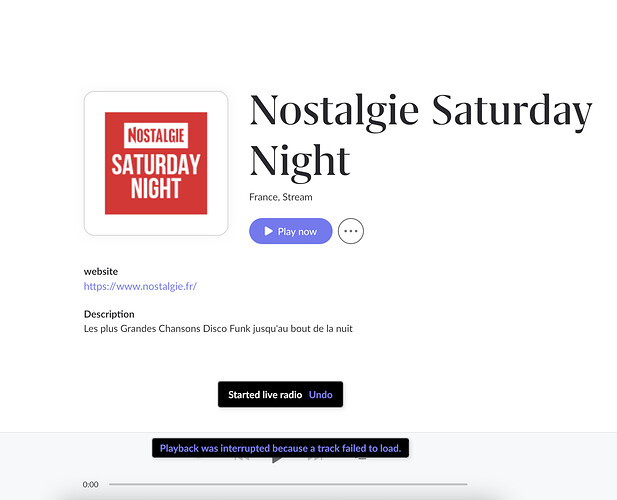 Is there anything we can do to enjoy this radio station?
Thanks a bunch

Roon had trouble with the Tunein stream, (https and redirection), but I've found another and added the station to the dtabase.
Search for Nostalgie Saturday Night with the magnifying glass.
Wow! That's awesome @BrianW. Thanks a whole lot for the prompt and fabulous help


.
Hello
When I click to The Boomroom , witch a station from Slam! Naarden, Holland.
i get the same music as when I click to hardstyle.
I see the same artist and number on the playlists of both stations.
Hardstyle makes me sick, The Boomroom is fantastic.
I contacted Roon for this matter, they gave me a link to this forum.
How can you help me?
Walter van Langeveld,
Steenwijk, the Netherlands.
Hello @Walter_van_Langeveld , welcome and sorry about the misidentification. I've changed the streams - try now.
Hello Brian,
Amazing, things are working really perfect now.
Walter.
Those last 3 playlist URLs point to .m3u8 chunked streams which Roon has problems with - some work, some don't.
I'll have a look this afternoon and see if I can find some alternative streams for you.
Hello @BRIAN_LEE1 , I've searched but have not been able to find alternatives. Sorry.
Roon is aware of the problems with HLS streams.
The Lot Radio appears to be playing in Room, but I'm not getting any audio. All of the other Live Radio stations I have are working fine.
Something strange going on there. The stream is active but transmitting silence.
If I go to the website, the audio stream in their souce code doesn't work and indeed, the option is greyed out on the website. I've tried other streaming services (e.g. Tunein) but they don't work either.
The video stream works but Roon can't handle that.
Perhaps the issue is temporary - I'll monitor for a while.
The website stream is now working and I've added it to the database.
I appreciate your kind support. Very impressive!
But I'm still having problems to add last 3 url. I can see the red warning as
" Roon cannot find the radio with this URL".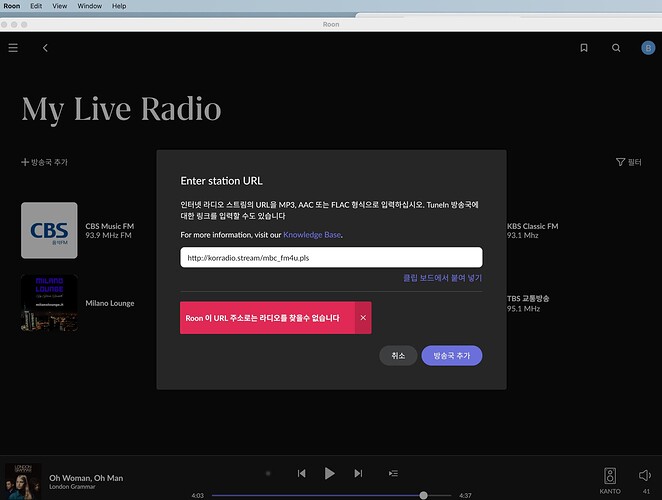 Add images
Sorry for any confusion @BRIAN_LEE1 , my post above was to Vince_Ashwill.
Those URLs you are having trouble with will not work I'm afraid. Roon currently can't deal with those chunked streams. And unfortunately I was not able to find alternatives. .
Worked great for a couple days - now back to streaming with no audio.
That's disappointing - it's streaming silence on the web site too.
OK, BrianW, Thanks. I'll keep to find solutions.
Twang City seems to have a broken link