Excellent! Thanks Brian!
And yes, i did find P1 after a while!
Hi Brian,
the German station "Absolut Relax" seems to have changed the stream url. Could you please update to:
https://absolutradio.de/playlist/absolut-relax.m3u
Thank you and greetings from Germany.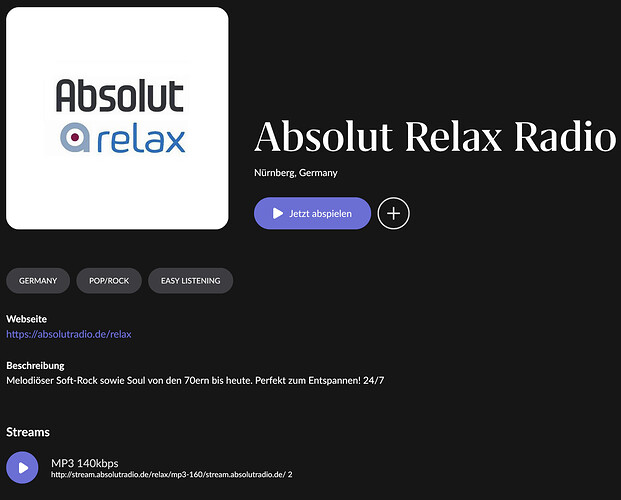 Hello @Edgar_Kirk , thank you for the updated link. That .m3u url actually points to a .aac stream and a .mp3 stream, so I've added them separately in order for you to choose whichever you prefer.
Thank you, Brian. That was quick.
Hello @sonicflux , there were two three errors there.
Firstly, as you noticed, the (first) url in Roon's list was wrong. Thank you for pointing it out.
Secondly, the others were OK, but Roon wouldn't pick them and insisted on playing the first URL only. A bug in Roon which I have informed Roon of before now.
I've replaced them with a suitable .m3u url and all appears to be OK.
Edit. There is a third issue - with the playlist format, Roon is losing the metadata. I don't suppose you want that so I have pulled out one of the streams explicitly (http://relay2.slayradio.org:8000) which means that you can get metadata. I'll leave the .m3u in as that will provide insurance in case the explicit streams change.
And finally, there is an .aac stream too. I've added that. (Similar arrangement as I've done for the mp3 ones)
Hi @BrianW , thanks for the details and super-quick response! I appreciate the addition of the AAC stream with metadata



sonicflux
Hello @Benb , I've checked on Twang City from time to time without success, most recently with a new url (to me, probably been available for a while) last Sunday. This morning the new url connected, but transmitted silence, but now I hear music!
Hello! I'm a long time listener to KCSM through Roon Live Radio and until about a week ago, the song and artist metadata was working fine and now it's gone. I don't know if this is a issue with KCSM's stream or Live Radio. I suspect it might be at the KCSM side.
You're right. KCSM now get their metadata from an associated site with XML info. The audio streams no longer have the metadata (although "StreamTitle" still appears in the stream it is blank).
Retrieving metadata this way is not something that Roon can do at present.
Thank you Brian. That's too bad

I love KCSM but in general, their new playlist and archive replay seems much worse than it was. I'll at least make a comment to the station on their stream feedback.
Hello Brian,
Radio Bremen (Bremen Eins, Zwei, Next and Vier) changed the address of their web streams. First there was only an announcement at the old streaming address now, they lowered the quality down to 64 kbps. Here are the new addresses (128kbps):
and the new ones for 64 kbps:
Thank you.
Best regards,
Dirk
Hello @Dirk_Petersen I don't think we need to do anything - Roon is using .m3u files which point to the new URLs.
Does everything work OK as far as you are concerned?
If not, I'll put the streams in explicitly, but the attraction of playlist URLs is for just this circumstance.
Hello Brian,
Please check the quality of the 128 kbps stream. If I play the 128kbps stream I'm not getting the 128 kbps quality but 64kbps. The quality on the 128 kpbs and the 64 kbps stream is the same: 64 kbps.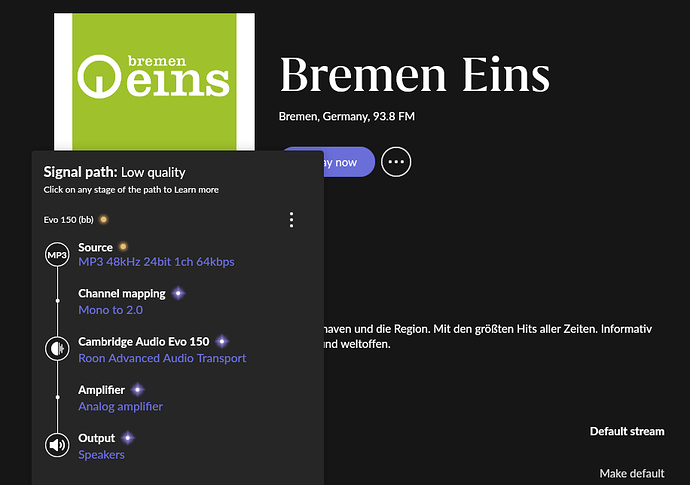 There seems to be a mixup here.
Hmm, I'm not seeing that.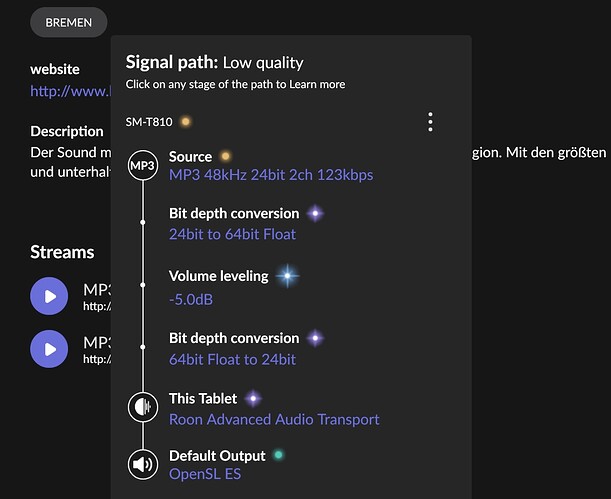 Having said that, I have, occasionally, come across stations with more than one url, one of which is an m3u, and Roon doesn't choose successfully. The Roon devs are aware.
In this case, I'll add the explicit streams for you. Give me 10 minutes…
Hi Brian,
now we've got the right quality: 128 kbps.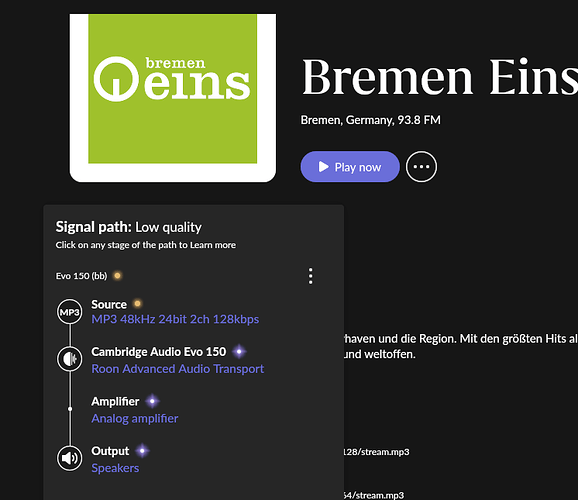 You can easily hear the big improvement in sound quality now.
Thank you very much!!!
Dirk
@John_Knoepfle metadata seem to be back for KCSM (tried today)
EDIT: this is thanks to a new "Roon exclusive" feature which I suppose will be announced shortly. Basically it retrieves metadata directly at the source for streams not carrying them natively.
Hi,
I just installed ROCK on a NUC and unfortunately my favorite radio station in Austria is not working.
Radio 88.6 seems to have changed their streaming service - I found following information on this site -
All of these URLs will be redirected to different adresses on http://edge06.streamonkey.net/
I am really happy with the software and I think I will purchase a license for it after the trial period.
Thanks,
Walter