Roon Core Machine
ROCK, NUC8i7BEH, Crucial 8GB Single DDR4 2400 MT/S, Transcend 128GB Nvme PCIe Gen3 X4 MTE110S M.2 SSD Solid State Drive
Networking Gear & Setup Details
Ethernet to NUC: Google WiFi, TP-Link 8 Port Gigabit Switch, Synology DS920+, Intel NUC 8
Connected Audio Devices
MacBook Pro, iPhone 12, Chord Mojo2/Poly, Chromecast Audio, Apple TV 4K
Number of Tracks in Library
43,000
Description of Issue
I have been having trouble restoring Roon backups stored on my NAS (same NAS as my music library, but not a watched folder). Each time I attempt to do so, I get this message: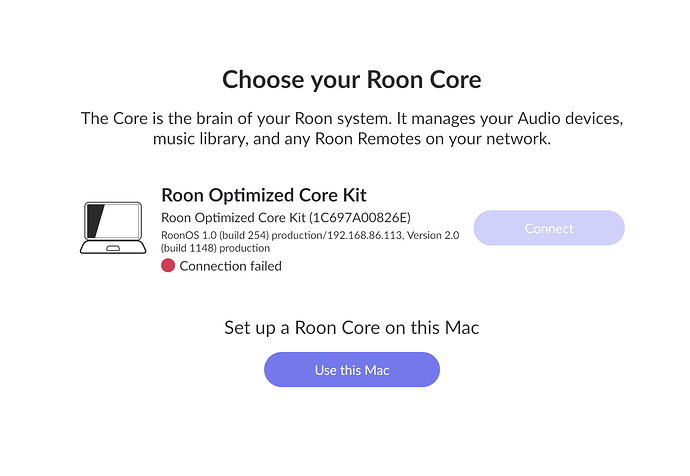 I have rebooted the NUC, cleaned the library (library maintenance), tried other backup versions, and other housekeeping tasks. Once I get the post-restore

Connection failed, I must abort and restart Roon, and then (most times) my music library if back. Sometimes, I need to map to my library location as it is not always there. What is consistent is the

Connection failed indication always happens after a restore.
While my library is ultimately restored, it doesn't appear to be doing so properly with the failure each time requiring the abort and restart. Any thoughts why this is happening and steps I can take to make the restore work as intended.