It's not certified yet, but coming very soon. For now you would have to contend with using Airplay or Chromecast.
"Very soon" is really optimistic.
I'm waiting now about two years…
For the question:
I'm using more (with a Lumin U1 Mini or a SOtM) the really good DAC from the Primare PRE35 through USB with Upsampling to DSD 256 than the Chromecast Implementation.
Thanks! I hope it will really be that soon though.

From a marketing employee at Primare -

It would seem that you should have no worries.
OTOH - Haven't heard from this poster since Roon tighten its 'Roon Ready' certification and Primare was found lacking in that regard.,
Considering the NP5 just got certified, I would say it's coming sooner rather than later. It will come before Hegel I bet!
I was reading recently that Prisma from Primare most probably will be Roon Ready second quarter of 2021.
I'm waiting for that to happen, since I'm fan of Roon and looking forward to purchase a Primare I15, Prisma. Anybody has any experience with this model, sound quality wise and any other comments?
Hi Andres,
I'm the proud owner of a Primare I15 Prisma, in combination with B&W 705 S2 loudspeakers. Most of the time I am streaming audio using Roon via Chromecast, with no issues at all.
After over a year of listening, I'm still more than happy with this combination. Very much recommended!
Best regards, Jochem
I also have a Primare I15 Prisma in use, connected to ATC SCM7s it sounds very good - recommended.
Streaming Roon via Chromecast or Apple based music/programs via Airplay is easy and works.
Airplay shows the playing metadata which is helpful.
Roll on Roon Ready this year…
Thanks Julian, very much appreciated your input. Glad to hear you like it. I decided to pull the trigger and ordering one over the weekend!
Hi Jochem, thanks for your message and sharing your experience with the I15. I haven't read much elsewhere about it, so the Room community with your input and Julian helped me make a decission to purchase one. I'm looking forward also to be Roon ready soon. I e-mailed Primare and they told me they submitted to Roon for approval already.
Andres,
I hope you are very pleased with your I15 once it is in place and setup.
Thanks for the good news that Primare have submitted for Roon Ready approval.
I suspect that the 1.8 rollout wil have taken priority recently…
Julian
Finally I received this week my Primare I15 Prisma. I'm very pleased so far. Impressed with its great sound, simple and detailed design, straightforward set up and functionality. Connected to a pair of Kef R300, LAN wired, I use chromcast with Room until gets certified.
Thanks for your input guys. I'm glad on the investment!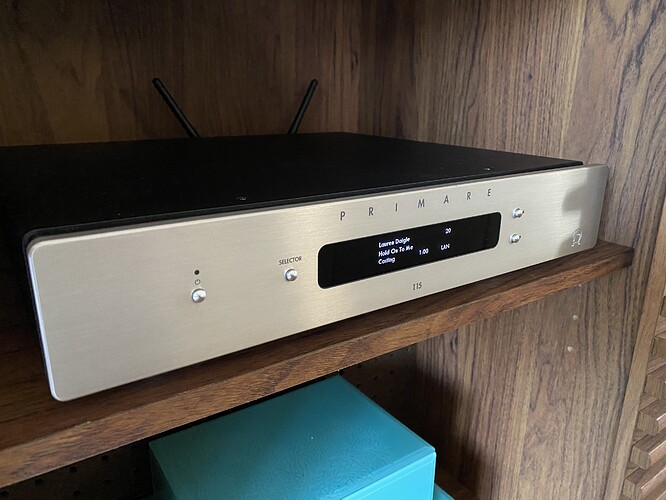 Hi Andreas, enjoy the music. I'm sure that you won't be disappointed…
Jochem
So, another three months of waiting and nothing happens in certification.
Anyone has heard anything?
No. It is very quiet. Maybe I have it wrong but I would assume the network module in the NP5 is basically the same as that in the Pre35 (and other products). So the ongoing delay on the Pre35 is a bit puzzling. Maybe they are having trouble getting the display to do the right things with Roon.
Hi guys, Primare is working with Roon to certify their other products (other than the NP5) to be Roon Ready, expected now by Fall, hopefully a bit earlier by late Summer. Roon requires that the products need to show the full signal path from input to output, and that is taking a bit more time. At the same time, if not earlier, Primare will be releasing some updates, some general bug fixes, chromecast, Tidal Connect and Spotify HiFi. We need to be patient a bit more. In the meantime my I15 sounds amazing using Chromecast.
Well at least they're still working on it.
Is there a work-around to enable this? My device (Primare I15) was disabled by accident and now I'm not able enable it again, and I'm not able to use my expensive hifi installation anymore. this is really bad support, how can you not allow to enable this again? It worked before. Now I have to stop using Roon.
Roon support might be able to help you. Otherwise, you can still use it via Chromecast.